Rautaki Hanganga o Aotearoa
New Zealand Infrastructure Strategy
Infrastructure is made of layers of connected systems and networks.
These deliver the services we depend on like power, water, transport, healthcare and education. What's the common factor in all this infrastructure? It allows us to share resources so that we can be more connected, healthier, smarter and innovative. In doing so, it improves our lives in many ways and contributes to the wellbeing of all New Zealanders.
Figure 2: The infrastructure layers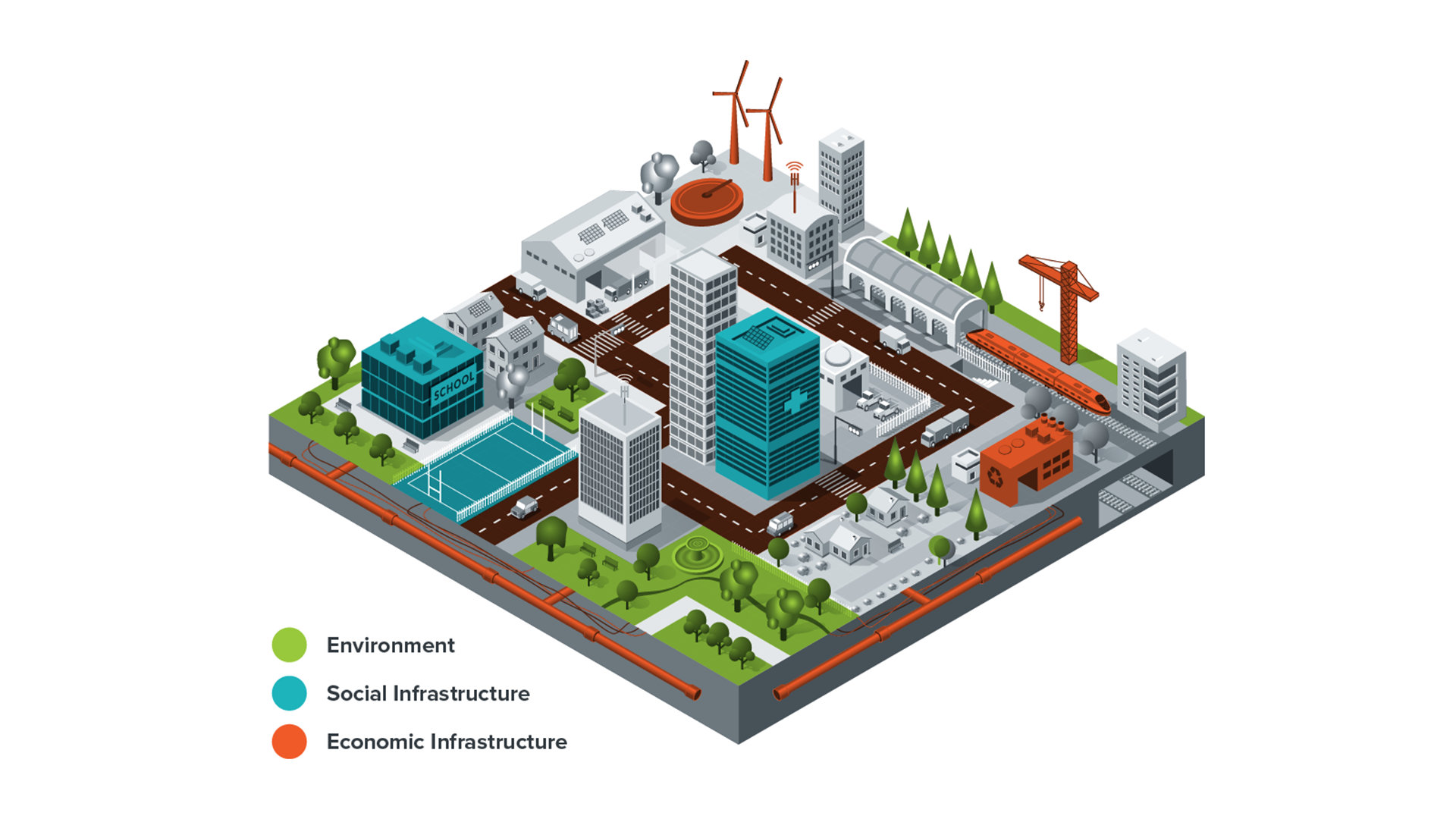 Source: Te Waihanga, data from Schooling, Burgess, & Enzer (2020)
Infrastructure can be categorised in many ways.
One way is to think of it in terms of economic and social infrastructure and the natural environment (see Figure 2).1
Economic infrastructure: This is our energy, telecommunications, transport, waste and water infrastructure.
Social infrastructure: This is our hospitals, schools, prisons, parks, libraries and community buildings.
Natural environment: There are interconnections and interdependencies between economic and social infrastructure and the natural environment.
Infrastructure has features that make it different from other goods and services.
These features relate to how infrastructure is made and how it's used. This affects how infrastructure is funded and how the organisations that provide it are structured and operate. All infrastructure sectors share these features to some degree:
Infrastructure is intergenerational. With good maintenance, infrastructure assets may last for over a century.
Infrastructure investment is lumpy as it involves large up-front costs to develop and upgrade.
Infrastructure can be interconnected and interdependent. For instance, a new water pipe can only supply a home with drinking water if it connects to other water pipes that link it to a water source. A hospital can't function without electricity and wastewater.
Infrastructure often provides shared services to a large number of people. For example, when a residential power line fails, every home served by that line loses power.
Infrastructure generates spill-over effects. For example, a new road or a passenger transport service can make an existing road quieter or busier. It may also help people to get to a hospital or to work more quickly.
We often think of infrastructure in terms of sectors, like transport, water, electricity, telecommunications, health, education and waste.
While infrastructure sectors have many features in common, there are some important differences. Telecommunications infrastructure and energy infrastructure are operated commercially, with funding sourced from charging consumers. Their investments are financed from private sources and independent regulators constrain their revenue and/or prices. In contrast, water, transport, education and health infrastructures are primarily operated as non-profit public entities and are funded primarily through taxes and rates or user charges set by local and central government.
Infrastructure is provided by both the public sector (central and local governments) and the private sector. This strategy speaks to all types of infrastructure, regardless of ownership. However, many of the recommendations in the strategy are targeted specifically at public infrastructure providers.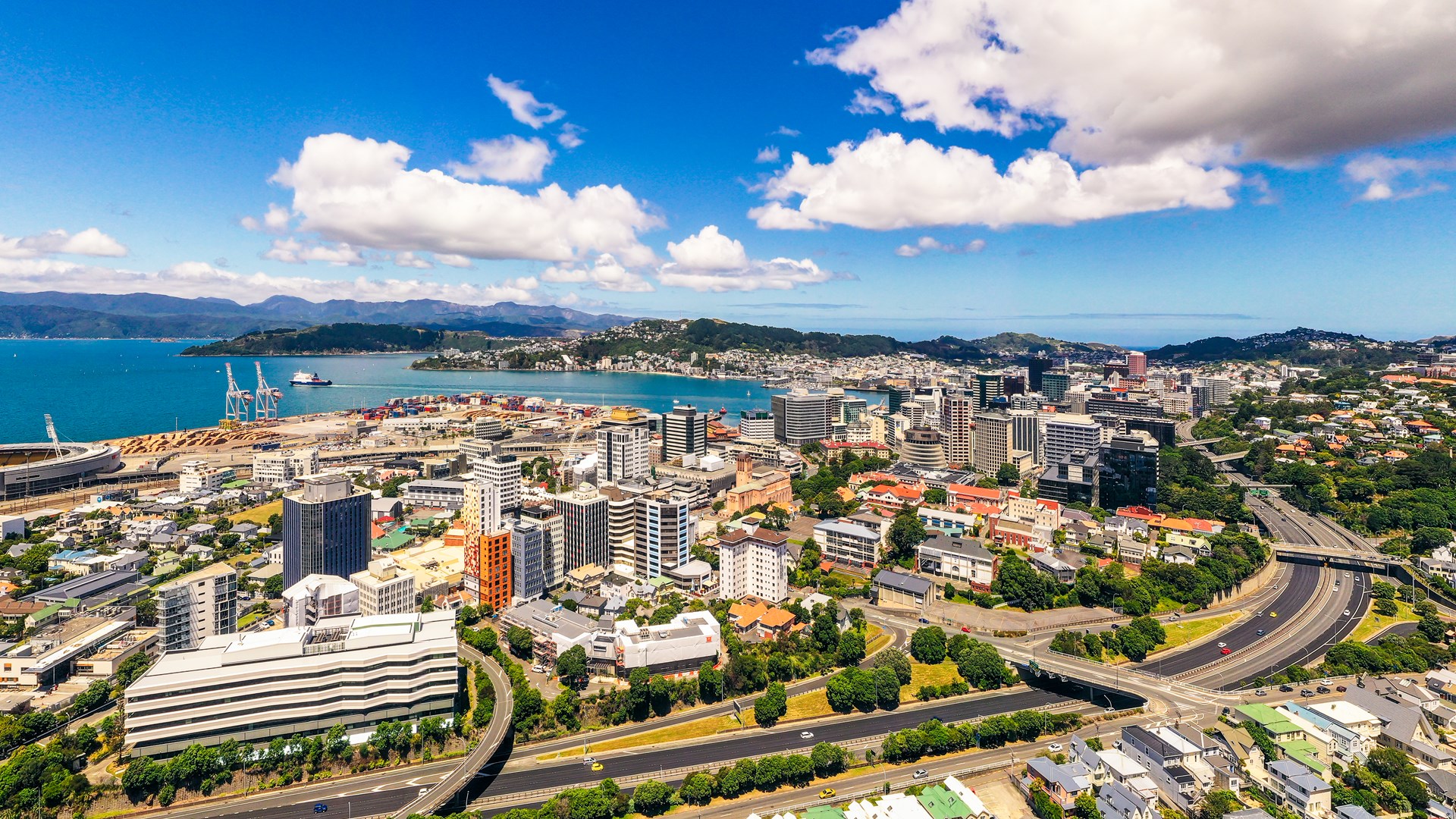 Looking south over Wellington City and CentrePort. Source: Georgeclerk, iStock by Getty Images.
We need an integrated and holistic view of the infrastructure system.
New Zealand has a large number of organisations responsible for the many parts of the infrastructure system and lifecycle. To get the most out of our infrastructure, for both the present and the future, we need to look across the whole system, rather than just any one part. Unlike many countries, New Zealand has not had, until now, an organisation or strategy with this system-wide perspective.
This strategy takes this more holistic view of the infrastructure system. It also has a longer-term horizon. A 30 year horizon requires us to think about trends such as technology advancements, our changing climate and population change, and the impacts these will have on infrastructure decision-making over the coming years and decades.
A longer-term, integrated framework provides direction for planning and action.
This longer-term view focuses our attention on the opportunities and challenges for our infrastructure, both now and over the next 30 years. Trade-offs will inevitably be needed to get the balance right between what we can afford, what we expect our infrastructure to provide and the impacts it will have on our communities and our environment. We can't have everything. These trade-offs need to be guided by a framework that provides direction for planning and action.
COVID-19 has changed how we use infrastructure.
Infrastructure is constantly required to respond to a range of shocks and stresses. These are often unforeseen or unexpected. The most recent of these is the COVID-19 pandemic. The pandemic has forced us to rethink how we live our lives and how we use infrastructure to connect and get around.2 Initially, the pandemic led to uncertainty in the infrastructure pipeline, with projects cancelled or delayed. Infrastructure was seen as an important channel for economic stimulus, with the government announcing numerous infrastructure programmes to sustain demand and support employment.
The first Alert Level 4 lockdown resulted in a sudden and abrupt change in usual patterns of commuting and working arrangements. Public transport usage declined substantially, leading to a funding squeeze for local and regional governments.3 Local government non-rates income, such as from council-controlled organisations, investments and dividends, were affected. In some cases, this resulted in reductions and deferrals in infrastructure spending.
Tourism patterns have changed dramatically and abruptly. The loss of international tourism has been estimated as having a significant drag on domestic output,4 with impacts on the accommodation, hospitality, transport, education and retail sectors. Domestic tourism has proved to be an important shock absorber for a drop in global demand. Despite this, the aviation sector has been severely impacted, with government assistance necessary.5
COVID-19 has highlighted challenges with supply-chain resilience and infrastructure workforce capacity and capability.
COVID-19 is a stark reminder of the importance of reliable, safe and efficient supply chains. Global supply chain disruptions have been common, with widespread impacts on global shipping and air freight.6 These have added to the cost of freight,7 increasing lead times and lowering inventory levels. Many of these impacts are expected to continue for some time.8 For many suppliers, traditional models of consumer shopping have been replaced with home delivery,9 while consumer demand has shifted from domestic services (such as eating out at restaurants) to durable goods, that require importing.10
COVID-19 has affected the supply of materials and labour needed to deliver infrastructure. As a result, construction prices have risen rapidly and project schedules have been pushed out due to supply chain and work site disruptions. New Zealand has experienced its highest level of construction price inflation since well before the Global Financial Crisis, but it is not the only country to experience these issues.11
Global supply-chains are more interdependent than ever. Raw materials and components may be shipped between countries multiple times to produce finished goods. By disrupting factory and port operations in many countries, COVID-19 has delayed shipments of goods, often leading to price increases for materials that are available and delays to projects while they wait on machinery and materials.
Availability of labour for infrastructure planning and delivery has also been challenging. New Zealand relies upon immigration to fill capacity and capability gaps, including specialist engineering and construction skills that are needed for complex projects. Restrictions on international travel during the COVID-19 pandemic has caused net migration to fall dramatically.12 This has made it more difficult to complete projects and lift investment to address infrastructure challenges.
While these issues will be moderate in the medium-term, they highlight the importance of building resilient supply chains and ensuring that we are planning for future workforce capacity and capability needs.
For many sectors, the pandemic has stimulated an acceleration in the use of telecommunications as a substitute for traditional infrastructure services.
This has been most obvious in the health sector where 17 district health boards collectively experienced a 100-fold increase in telehealth consultations, to 34,500 per week in April 2020.13 Many education providers were moved online, as were many employees, showing how telecommunications infrastructure can provide an important substitute for physical proximity.
COVID-19 has had significant implications for infrastructure across many sectors. It's impacted short-term patterns of infrastructure usage and there's considerable speculation about how patterns of land use may change and how we might use infrastructure differently in the future.14,15 From an infrastructure perspective, it's a reminder of the importance of a resilient, flexible and agile system.
This strategy takes a longer-term perspective to complement shorter-term investment in recovery, focusing on how we can better support resilience to shocks of this kind in the future.
We've read, listened to and thought about a lot of information in developing this strategy.
We've undertaken both a bottom-up, consultation-led approach and a top-down process, where we've learnt from the work of others, such as the Climate Change Commission, the Productivity Commission and the Resource Management Review Panel. We've also learnt from:
23,638 responses to and 8,500 comments on our Aotearoa 2050 survey.
721 submissions on Te Waihanga's consultation document, He Tūāpapa ki te Ora Infrastructure for a Better Future,16 including 178 from organisations.
119 organisations that responded to our Infrastructure Asset Owners Survey.
Four meetings with iwi, as well as the University of Waikato's Te Kotahi Research Institute.
Nine stakeholder workshops.
Workshops at Te Waihanga's symposium, Infrastructure 2021: Looking Ahead17 (see Figure 3), and the 2020 Infrastructure New Zealand ReBuilding Nations conference.
80 stakeholder meetings.
Te ao Māori testing panel.
A local government reference group.
Our strategy and our recommendations draw on ideas from and work with all these sources. It also draws on the work of many institutions, organisations and academics from across our infrastructure system.
This is just the beginning.
The infrastructure system is complex and exists in a rapidly changing world. We need to be flexible and adaptable to change and understand the infrastructure implications. In recognition of this rapidly changing environment, the strategy will be revised at least every five years. It is the beginning of a much longer-term ongoing conversation with all New Zealanders.
Figure 3: Bringing together the many ideas for infrastructure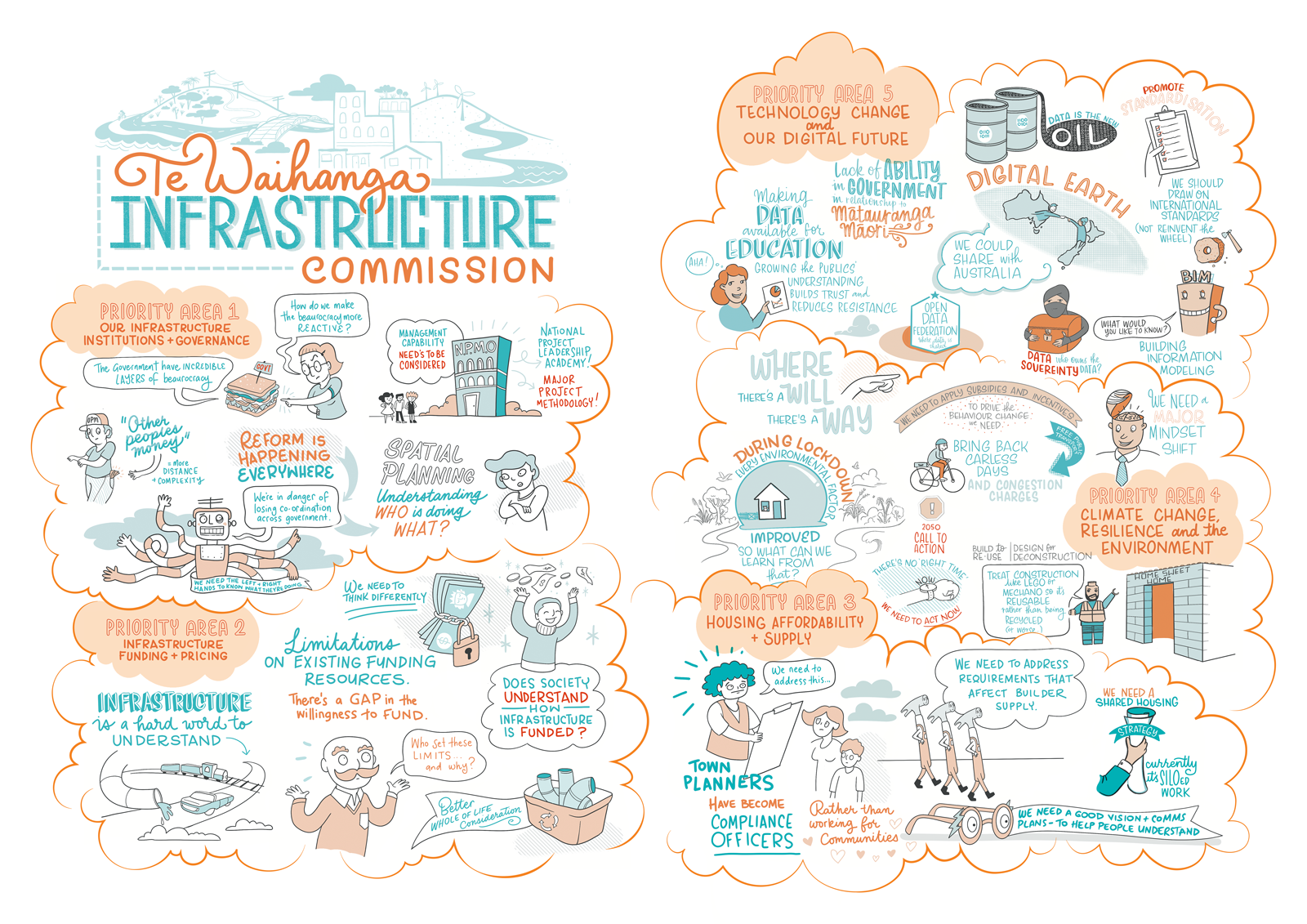 Source: Te Waihanga