Rautaki Hanganga o Aotearoa
New Zealand Infrastructure Strategy
2. Vision for infrastructure
He tirohanga mō te hanganga
The decisions we make about our infrastructure will shape the way we live for generations.
This strategy learns from the lessons of the past and looks to the future, planning ahead to ensure our infrastructure will help us to meet the challenges we'll face.
"Ki te kahore he whakakitenga ka ngaro te iwi – without foresight or vision the people will be lost."
– Kingi Tawhiao Potatau te Wherowhero
It looks at the role our infrastructure system has in our wellbeing, including its importance to our economy and our jobs. It places equal importance on its contribution to our society, culture and environment. There are few parts of our lives that don't rely on infrastructure.
The strategy also recognises Te Tiriti o Waitangi (the Treaty of Waitangi) as the constitutional foundation of Aotearoa, and it draws on concepts of te ao Māori to think about infrastructure from the broad perspectives of wellbeing (oranga), kaitiaki (guardianship and stewardship), integration, longevity and connection to place.
From this perspective, the vision for the strategy is:
Infrastructure lays a foundation for the people, places and businesses of Aotearoa New Zealand to thrive for generations.
E whakatakoto ana te hanganga i te tūāpapa o te ora o te tangata, o ngā wāhi, me ngā pakihi o Aotearoa kia ora rawa atu mō ngā whakatupuranga.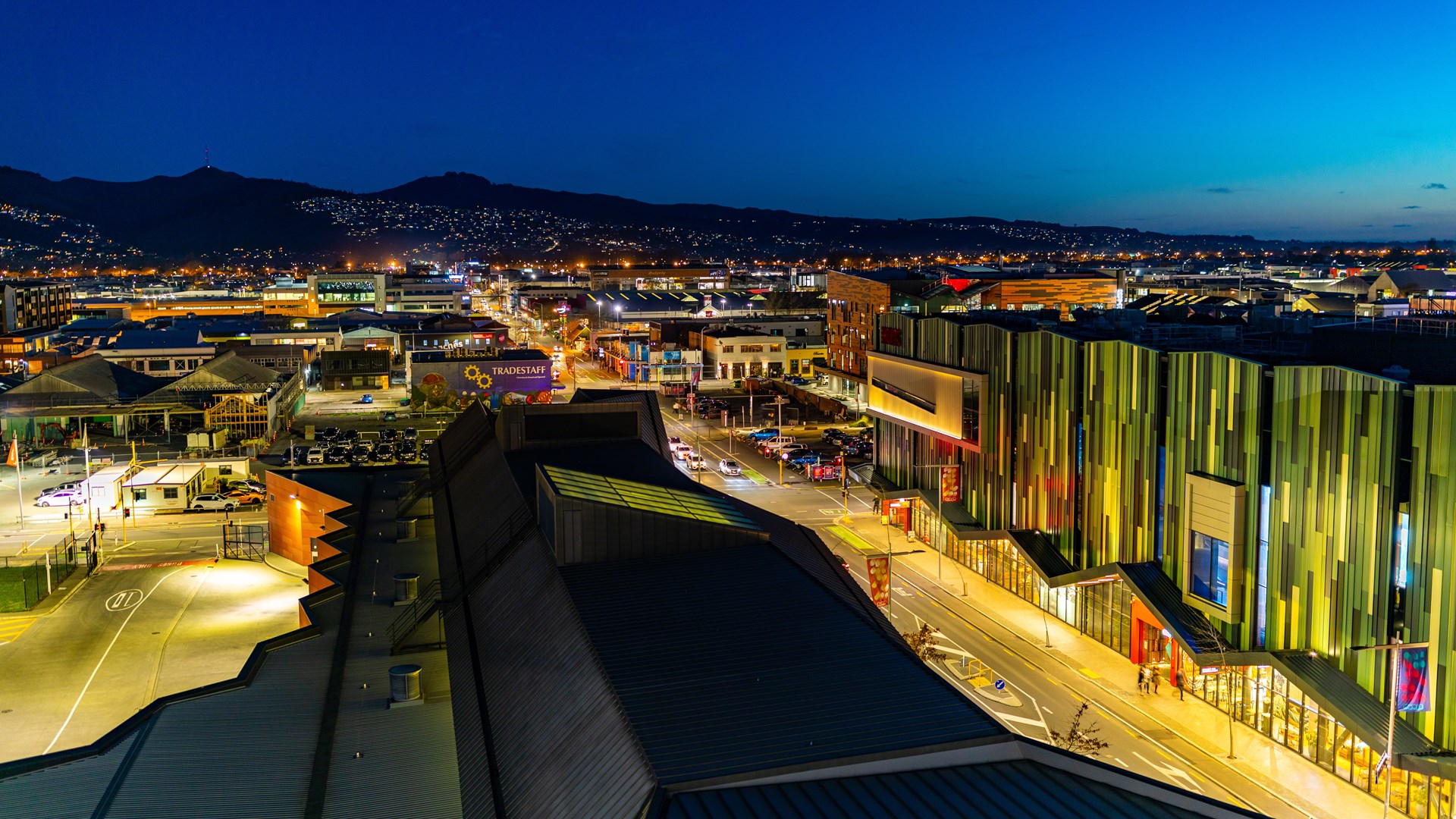 View from the Christchurch Bus Exchange toward Ao Tawhiti, Aotearoa New Zealand's first vertical school. Source: Ernest Kung, iStock by Getty Images.
Infrastructure is a foundation for wellbeing.
This strategy sets a path to a 2050 where infrastructure continues to support wellbeing. We have a strong economy, options for how we get around, clean energy and access to health and education as our population grows and moves, and as technology changes. We're resilient to shocks and stresses, including those that climate change brings. Infrastructure plays its part in supporting these and other goals, offering a foundation for a thriving New Zealand. The koru below (Figure 4) contains the many ways in which we expect infrastructure to support New Zealand's people, places and businesses through to 2050.
Figure 4: How infrastructure supports New Zealand's people, places and businesses
Source: Te Waihanga