Rautaki Hanganga o Aotearoa
New Zealand Infrastructure Strategy
Hei tautoko i te panonitanga
New Zealand's infrastructure faces many challenges.
For example, long-term trends such as climate change will have significant impacts on many parts of our infrastructure system. Our population is increasing and changing, and this will affect the quantity and quality of the infrastructure we need. And construction costs have been increasing, placing pressure on infrastructure budgets. We have an opportunity to overcome these challenges by taking a new approach to planning, delivering, maintaining, funding and financing infrastructure.
Figure 5 shows the areas where we'll need to do better if we are to achieve our vision for infrastructure. The orange section on the left shows the infrastructure challenges we face, while the blue section on the right contains the tools that enable change.
Figure 5: The challenge, the response
Source: Adapted from Sense Partners (2021)
We can't build our way out of every infrastructure challenge.
At present, we spend around 5.5% of gross domestic product (GDP) on public infrastructure. This includes our transport, water, hospital, education and defence facilities and excludes privately provided infrastructure like electricity generation and telecommunications.18 If we attempt to build our way out of current and future infrastructure challenges, it will cost around 9.6% of GDP over a 30-year period. This is equivalent to $31 billion per year and almost double what we currently spend. This is caused by several factors, which are set out below.
Historical infrastructure deficit: New Zealand has under-invested in infrastructure in the past, which has lowered service quality and congested infrastructure. We also lack the infrastructure we need to support housing growth. We estimate that the new investment needed to meet this challenge would cost 0.7% of GDP every year over a 30-year period.
Demographic change and economic growth: New Zealand's infrastructure must evolve to serve a growing and changing population and economy. Our population is predicted to rise from 5 million to 6.2 million by 2048 (or 6.7 million under a high growth scenario), even after assuming that migration slows down.19 The nature of work and the nature of our workforce will continue to evolve.20 An ageing population and regional differences in growth rates will also affect infrastructure use. Responding to these trends will require new roads, improved public transport systems and water systems for growing cities, freight and port infrastructure for growing economic activity, and trade and telecommunications infrastructure to connect us to each other and to the rest of the world. We estimate that the infrastructure needed to support population and economic growth would cost 1.8% of GDP every year over a 30-year period, in addition to the above need.
Improving infrastructure quality: We often expect more from our infrastructure than we did in the past. Improved infrastructure is fundamental to achieving goals such as reducing carbon emissions, providing safe drinking water, lifting environmental quality and creating built environments that improve the wellbeing of all New Zealanders. We estimate that addressing demands for improved infrastructure quality solely through new investment would cost 0.7% of GDP every year over a 30-year period, in addition to the above needs.
Adapting to climate change and recovering from earthquakes: We'll need to rebuild, strengthen, or relocate infrastructure in response to our changing climate and to recover from natural disasters, like floods and earthquakes. There is for example, a 75% chance that the Alpine Fault will rupture over the next 50 years, likely triggering an earthquake of magnitude 8 or higher.21 We estimate that adapting our infrastructure to climate change and repairing infrastructure after earthquakes will cost at least 0.2% of GDP every year over a 30-year period, in addition to the above needs.
Maintaining and renewing infrastructure: Our infrastructure comes with ongoing costs. For every $100 we spend on new infrastructure, around $60 must be spent on repairing and renewing worn-out infrastructure. We estimate that the cost of maintenance and renewals could be up to 4.6% of GDP every year over a 30-year period, in addition to the above needs.
Cost pressures: The cost of building infrastructure has been rising more rapidly than costs in other sectors of the economy. It's currently difficult for the construction industry to hire the skilled people it needs to meet increasing demands. We face competition for labour from an infrastructure boom in Australia, where wages are considerably higher. Uncertainty about future investment plans can reduce productivity growth by discouraging companies from investing in skills and machinery. Cost and schedule overruns on one project can worsen this by increasing financing costs and delaying other projects in turn. Costs are also driven by the increasing complexity of our projects and slow, costly and bespoke consent processes. Unless we address these root causes, these trends mean we'll have to spend more to get the same results. We estimate that these cost pressures will add 1.6% of GDP to our infrastructure costs every year over a 30-year period, in addition to the above needs.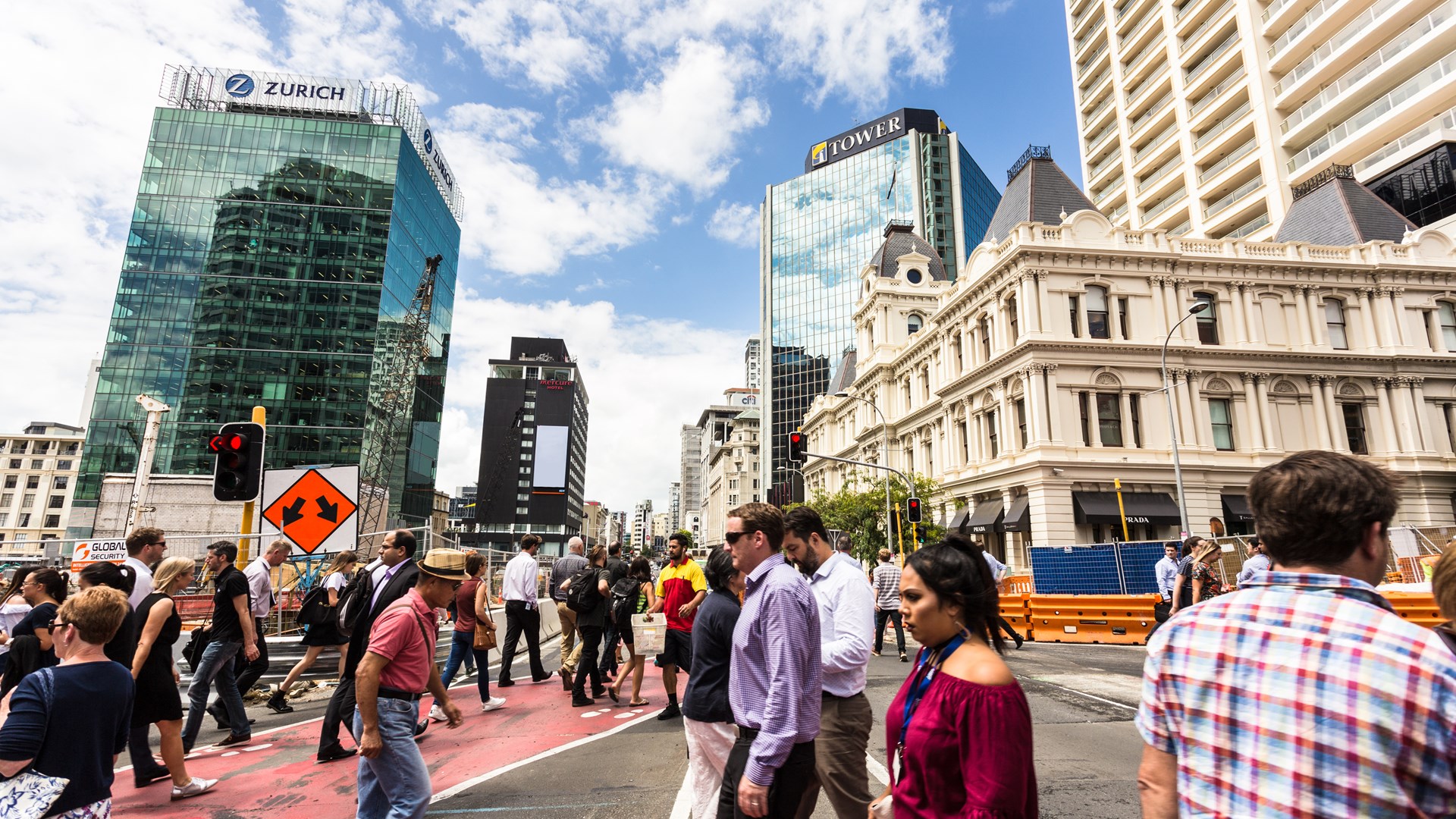 Pedestrians crossing near the construction site of the Auckland City Rail Link. Source: AsianDream, iStock by Getty Images.
We have an opportunity to improve the way we plan, fund and deliver our infrastructure.
It won't be enough to simply keep doing what we've always done if we want to keep up with our expectations for life in New Zealand. While we'll need to invest and build more, this will only be one part of the solution. We can also be smarter in how we plan, deliver and use our infrastructure. We've identified four ways of achieving this:
Make better use of infrastructure.
Undertake better project selection.
Broaden funding and financing options.
Streamline delivery.
Make better use of infrastructure.
We need to make better use of both the infrastructure we already have and the new infrastructure we build. We can spread the load on our roads, water networks and other infrastructure through tools like education, regulation, pricing and design, which encourage people to use alternatives (such as public transport) or avoid using them at peak times.
This could mean improving bus services so there are fewer cars on our roads, using water metering to identify and fix leaks, or requiring flexibility in zoning policy so more houses are built in areas where there's already infrastructure in place.
More examples of how we can make better use of existing infrastructure are set out in Table 1.
Undertake better project selection.
Infrastructure is too expensive to get wrong. We need to make better decisions so we can be confident that the infrastructure we do build will help solve the problems we face. We can:
Plan and prioritise the projects we're going to invest in as a country.
Follow a robust business case process that means we choose the right projects.
Put frameworks in place to ensure we always test other options first, including solutions that don't require construction.
Our project selection process must be robust, replicable, transparent and deliver value for money.
Broaden funding and financing options.
New Zealand lacks a lot of the important infrastructure we need. To address this, we need to increase the amount that both the government and the private sector spend on infrastructure over the next 30 years. It will also mean using a broader range of funding and financing options, which could include:
New funding tools.
Making greater use of existing tools and debt funding.
Using debt funding to ensure intergenerational equity.
Considering alternative models that take greater advantage of private capital.
To create incentives to use both existing and new funding and financing tools to address our infrastructure challenges, we also have to consider the best structures for ownership and governance.
Funding represents all the money needed to pay for infrastructure. It comes from the community through users, taxpayers and ratepayers. In contrast, financing is about when we pay for our infrastructure. It could mean using cash surpluses now or borrowing from sources we need to repay later.
Streamline delivery.
The scale of our challenge means we need to get faster and more efficient at building infrastructure or else we'll always be on the back foot. Options for this include:
Improving our infrastructure institutions and governance to provide greater coordination and increase resilience.
Investing in early-stage planning, for example spatial planning (see Section 6.2.3) and corridor protection (see Section 6.3.3), to speed up the processes for approval and buying land.
Partnering with Māori through a range of options including collaboration, co-design and co-governance.
Standardising procurement rules, using prefabrication and supporting the construction sector in training people and improving processes.
These are steps that can help deliver our infrastructure more quickly and improve the results, giving New Zealanders better services at a lower cost.
All these responses are needed to solve the infrastructure challenge.
Each response can make a big difference to solving New Zealand's infrastructure challenge, but the size of the problem is too large for any one action to be enough by itself. We'll need to use all four to make a difference.
Table 1: Examples of better use of existing infrastructure
Table 1: Examples of better use of existing infrastructure
Primary and preventative care
Digitalisation of health services
Health warnings on cigarette packages
Covid-19 elimination strategy
Speed limits and road policing
We have choices in how we address the infrastructure challenge, but these involve making trade-offs.
Because we have limited resources with which to build, operate, maintain and renew infrastructure, we can't invest everywhere at once. Improving infrastructure in one area can mean leaving needs unmet in another. A careful prioritisation of investment is needed when deciding where, when and how much to invest.
When faced with options to manage congestion on an infrastructure network for instance, an operator may charge more at peak periods to spread the load across time and avoid the need for expensive new physical assets and ongoing operational costs. This is an example of a lever that makes better use of existing infrastructure. It can be an effective way to manage costs. For instance, Transpower estimates that without a peak-demand charge for electricity transmission, the scale of physical investment would need to be around 2-9% higher.22 Pricing strategies can be difficult to implement for public infrastructure however, meaning either lower service quality for communities (for instance, rising traffic congestion), or greater infrastructure investment, which comes at a cost to users or taxpayers.
In this way, decision-makers face choices between the appropriate response (better use of existing infrastructure, project selection, streamlined delivery and funding and financing) and the service quality that communities will experience. If we select bad projects, the funding required to address our infrastructure challenges may be higher. If we deliver projects inefficiently or slowly and don't make better use of existing infrastructure, service quality may fall. Depending on the nature, reach and network of infrastructure, these trade-offs can impact local communities, cities, entire regions or the whole country.
This strategy assumes that we'll need to improve how we use all four responses to maintain and increase the value we gain from infrastructure.
This strategy is consistent with the government's broader Economic Plan.
The government's broader economic strategy, called the Economic Plan, aims to tackle the long-term challenges facing the New Zealand economy to improve the wellbeing and living standards of all New Zealanders. It names four economic priorities and eight key shifts that are needed to build a more productive, sustainable and inclusive economy.23 This strategy overlaps and is consistent with the following core principles of the Economic Plan:
Grow and share New Zealand's prosperity more fairly: This strategy highlights opportunities to grow the economy and recommends system-wide change to increase infrastructure productivity and improve access for all New Zealanders.
Transition to a clean, green, carbon-neutral New Zealand: This strategy focuses on the critical importance of enabling a fast-paced and sustained build of energy infrastructure to provide low-emissions energy. It also identifies key steps to making the right infrastructure choices and minimising carbon emissions from building new infrastructure.
Support thriving and sustainable regions: This strategy emphasises that infrastructure plays a critical role in enabling the regions to play to their strengths. It identifies the challenges with regional infrastructure and recommends key steps to address them, with a particular focus on closing disadvantage by improving access to employment and social infrastructure, enhancing social cohesion and reducing living costs for those in more isolated locations.
Deliver responsible government with a broader measure of success: Developing a world-class infrastructure system is a key focus of our strategy. In particular, it highlights the need for strong leadership and better decision-making.
The government has several policy reviews and reforms underway that will have big impacts on our infrastructure sectors.
These reviews and reforms will touch and affect most, if not all of New Zealand's infrastructure delivery in some way and are relevant to the implementation of this strategy. They're likely to affect the way infrastructure is consented, delivered, owned and governed.
Some of the key reforms are discussed below.
Resource management reform: This major reform programme will change how infrastructure is planned, consented and delivered. It will for example, require regional spatial strategies, which will ensure a more integrated approach to land use and infrastructure planning.
Government Policy Statement on Housing and Urban Development: This reform places a spotlight on increasing affordable housing supply, including through the Urban Growth Agenda and Urban Growth Partnerships.
Responses to climate change adaptation and mitigation: Key reforms include an Emissions Reduction Plan and a National Adaptation Plan, which both have a major focus on infrastructure.
Three Waters Reform: New Zealand's three waters infrastructure is worth around $64 billion.24 This reform package proposes a major change to the ownership and governance arrangements for three waters and as a result, the way this core infrastructure is planned, delivered, maintained and operated.
Review into the Future for Local Government: Local government is currently responsible for over $140 billion of assets and a wide range of services, including infrastructure provision. The local government review is looking at options for effective local governance, including functions and roles, taking into account the government's broader reforms.25
Health and disability sector reform: The health sector oversees approximately $24 billion of assets and is currently undergoing a major structural reform, with the 20 district health boards being amalgamated into a new national entity, Health New Zealand, operating from four regional offices. The reform envisions changes to health service delivery. For example, some health services may be provided closer to where people live using digital technology and distributed services. This will encourage the use of smaller and repurposed buildings in the future, rather than big campus developments.
Emergency management reform: A broad, multi-year work programme of reform is underway to deliver extensive change to New Zealand's emergency management system. This includes a review of the existing legislation under the National Emergency Management Agency's Regulatory Framework Review Programme (also known as the 'Trifecta Programme'). Changes proposed include enhancing the roles and responsibilities of those agencies covered by emergency management legislation. Work undertaken within the Trifecta Programme will align with the National Adaptation Plan and the National Disaster Resilience Strategy.
Development of fit-for-purpose energy and digital strategies: The government is developing a number of strategies as part of preparations for a net-zero carbon emissions New Zealand by 2050, as well as other challenges and opportunities New Zealand will face in the next 30 years (including a Digital Strategy for Aotearoa).
Supply chain strategy review: Workstreams are investigating new approaches to cooperation, regulation and investment to strengthen New Zealand's supply chain. The main drivers for change are decarbonisation, resilience to threats and events, productivity and innovation, and wellbeing.
Waste sector legislation and strategy review: This includes enabling a reduction of waste through a programme of targeted waste levies, end-of-life solutions for certain products, the phase-out of particular plastics, reducing construction and demolition waste and improving compliance, monitoring and enforcement. This matters to infrastructure because it will impact the future need for landfills.
Air navigation system review: Work is underway on a broad, first principles review focusing on settings in three key areas of the air navigation system; policy & regulatory, institutional and funding.
Future of the transport revenue system review: This is a first principles review of the current land transport revenue system to ensure it is fit for purpose and can meet future requirements.
Other government reforms and work programmes are noted in the relevant parts of this strategy. The strategy acknowledges and looks to build on the many reforms that are underway. It also recommends further government reforms and actions in several areas.
The impacts of these reforms on infrastructure are still evolving, but a key challenge will be ensuring they're consistent and coordinated from an infrastructure perspective. As the government's lead infrastructure advisor, Te Waihanga provides advice to the Minister for Infrastructure on many of these reforms.