6.2. Supporting towns and regions to flourish
Te tautoko i ngā tāone me ngā rohe kia tupu matomato ai
6.2. Supporting towns and regions to flourish
New Zealand's regions are distinct. Our infrastructure supports our towns and regions to play to their strengths.
New Zealand's regions are great places to live, work and visit. Each region has its own character and unique combination of natural environment, infrastructure and community. Lower house prices, roads that are free of congestion and a sense of community make the regions attractive to many people. They also offer job opportunities that are different to those in our cities, whether they're in the primary sector, in local businesses or involve remote working. These are some of the reasons for approximately 1.8 million New Zealanders, some 35% of the population, living in small cities, towns and rural areas outside the main urban areas.102
However, some of these things that make our regions special, such as their smaller scale and remote locations, pose challenges for their infrastructure. For people living away from main centres, it can be hard to access employment and social infrastructure, like schools and hospitals. It can also be more expensive to maintain infrastructure when populations are smaller.
Like elsewhere in New Zealand, the infrastructure in our regions will need to adapt to meet the changes we'll face over the next 30 years. Some areas will need to manage decline. Others, buoyed by the potential of work from home, improving broadband and the high cost of urban housing, will experience growth. Wairoa in Hawke's Bay for instance, was projected to decline by 4% between 2013 and 2020, but instead grew by 8% as people were drawn there from other parts of New Zealand.103 All regions will need to work to address climate change, but its impacts might be greater in some, such as those by the coast.
New Zealand is a trading nation and the regions are our economic backbone.
In 2019, $131 billion of goods left or entered New Zealand, with 79% by sea and 21% by air.104 There were 14 million passenger movements through New Zealand's four main international airports.105 As the home of important sectors like the primary sector and tourism, New Zealand's regions are the country's economic backbone. Prior to COVID-19, primary-sector products made up nearly 80% of all the goods we exported by value.106 Tourism, New Zealand's largest export sector prior to COVID-19, contributed a further 20% of total exports. Access to local, national and international markets is critical to the success of not only our regions, but New Zealand as a whole.
Māori have strong connections to regional New Zealand.
For Māori, our regions can be whenua, a source of connection and identity. Māori are slightly more likely to live outside main urban areas than other New Zealanders and account for a large share of the population in regions like the Gisborne district (where 54% of the population is Māori), the Northland region (36% Māori), and the Opōtiki district (64% Māori).107 A large proportion of all New Zealand's marae are found in rural New Zealand. The Māori economy is embedded in the fabric of the regions and is dominated by land and a natural-resource-based primary sector, with 35% of the Māori economy arising from the primary sector.108 Māori-owned businesses account for 16% of New Zealand's total primary-sector output.109
Infrastructure supports the regions to play to their strengths.
Well-organised infrastructure networks are critical to enabling goods, services, people and knowledge to move both within New Zealand and overseas. Regional New Zealand will increasingly need rapid, low-cost connections between regions and cities. Currently, the air services to our regions are infrequent and expensive. The rise of electric aviation and autonomous mobility solutions may help ease these pressures, boost competition and change the nature and economic viability of commercial regional air services. This technology is expected to become more common within the next decade,110 but to prepare for this, significant training and infrastructure preparation is required to support operations on existing runways.111
The national networked infrastructure, like the road and rail network and electricity transmission lines, is largely located in regional New Zealand and forms long-distance connections across the country. Maintaining security of supply in often remote and geographically challenging parts of the country is important to all New Zealanders. Road and rail transport will remain fundamental to connecting our regions. However, digital and mobile connectivity are also becoming essential. Moving data and information will become increasingly important to the regions.
Providing infrastructure in the regions can be challenging.
To thrive, regional New Zealand needs good infrastructure. However, this can come with challenges:
It can be difficult to pay for costly, large-scale investments in places with small populations.
The costs of providing infrastructure services to dispersed populations can be high and made more challenging by New Zealand's geography.
Ageing populations in many places increase infrastructure needs while reducing the number of working-age people who can help to pay for and operate infrastructure. This places pressure on the way infrastructure is currently funded.
Uncertainty about whether the population in a region will grow or decline can create uncertainty about how to pay the ongoing operational and renewal costs of infrastructure. This raises the possibility of stranded assets, which a region can't afford to operate.
Managing the impacts of climate change can be more difficult. For example, public transport might not be viable in small towns, and coastal communities may struggle to fund infrastructure, like sea walls, that they need to adapt to climate change.
These difficulties can limit the viability of infrastructure services in some places. They might mean higher prices, lower service quality or even missing services. For example, public transport options can be limited or non-existent, recycling facilities may be sporadic, internet and mobile service coverage may be patchy and long distances may be travelled to jobs and recreation. Health, banking, education and recreational facilities can be impacted. This heightens the importance of transport and digital connectivity for social and economic wellbeing.
"Our smaller towns struggle to pay for infrastructure" was ranked as a 'very important' issue by 44% of respondents to the Aotearoa 2050 survey. Submitters on our consultation document told us that regional roads and freight networks were important for economic and social functions. However, they saw challenges with maintaining rural roads to provide ongoing access to communities and to meet economic needs, such as for freight and logging.
Submitters also recognised the role of population and economic growth in driving infrastructure needs. Telecommunications and digital infrastructure is important for ensuring access for everyone living in regional New Zealand, including those who are vulnerable and disadvantaged. It can complement and sometimes be a substitute for transport networks. Air access is also important, but regional air links are seen as expensive and sometimes infrequent.
Accessing safe and reliable infrastructure
Safe and reliable infrastructure is fundamental to wellbeing but can be difficult to fund.
We need access to safe roads, health services, reliable electricity, mobile phone and internet services, and clean water. This can be more challenging outside cities, particularly in our more remote areas. But without these services, economic and social opportunities are limited and people face disadvantage.
Existing funding sources like rates are often not enough to provide the quality of infrastructure needed in regional New Zealand. Private enterprise is also unlikely to meet all these needs. This is particularly the case in areas where few people live, where incomes are low and where communities are marginalised. Poor infrastructure affects regional businesses by, for example, reducing opportunities to improve productivity and innovation. In the case of telecommunications and internet access, poorer communities may also be unable to pay for devices and access. This worsens inequity and disadvantage for these communities. While infrastructure alone can't remove the underlying causes of disadvantage, it can reduce the impacts by improving access to jobs, education, health and social services. This might be through transport connections like roads and rail links, for example, or through better digital connections.
Infrastructure standards should enable affordable solutions for rural New Zealanders.
For some rural communities, high infrastructure quality and design standards can create problems and even threaten their access to essential services. For smaller communities, the cost of meeting these standards can be too high when shared among only a small number of people.
This is a particular challenge for water supply. Up to 100,000 New Zealanders get their drinking water from very small suppliers, such as wells that serve a few households.112 Almost 1,000 schools, marae and community facilities supply their own water.113 Without help, these suppliers may not be able to afford to meet new drinking-water standards.114
To help in cases like these, infrastructure standards should allow on-site solutions or low-cost infrastructure designs to be used when they're more affordable for users. For example, electricity distributors are required to supply power to remote users. They can do this by paying for on-site generation like solar panels or generators if they are cheaper options.115
When the government sets standards that apply to local governments and self-service infrastructure, it should ensure that those standards don't pose too-high costs on small communities or those who would struggle to pay. This could be achieved by sharing services among several communities or through subsidies for communities that would otherwise struggle to pay.116
Low-cost infrastructure alternatives are important in the regions.
Digital technology through for example, the use of online services, can offer alternatives to the services people need from infrastructure. It can mean that instead of using transport connections for work or study, people can work remotely online. Other alternatives can be local, small-scale solutions that avoid the large upfront costs often associated with big, centralised infrastructure. Examples are off-grid water systems and satellite broadband services, provided they can meet minimum service quality standards at lower or comparable costs. In the health sector, there are opportunities to move service delivery closer to the regions using digital technology, which allows the use of small and repurposed buildings.
The rise of electric aviation is one development that has the potential to change the economic viability of commercial regional air services,117 while also contributing to our net-zero carbon emissions target. While there's some uncertainty about the use of electric aircraft for long-haul travel due to battery sizes,118 electric aircraft for small regional flights is imminent and may be cheaper than the alternatives. Airlines are already investing in electric planes.119 Preparing infrastructure and developing the skills to maintain and operate electric planes will become a priority for infrastructure providers, particularly airports.120 There'll likely be a role for the government to review regulatory frameworks and standards and identify other network implications. Many of these issues should be identified or informed by the Air Navigation System Review being undertaken by the Ministry of Transport. There are other technologies that could also impact inter-regional connectivity including electric vertical take-off and landing aircraft e-VTOL, smaller drones and unmanned aircraft that can transport low-volume, time-sensitive goods, and the automation of existing aircraft. The aviation system will need to prepare for these technology changes, with likely implications for regulation, investment and safety standards.
Managing population decline will become a more common challenge in some areas.
It's likely that New Zealand will increasingly have to manage areas where populations are in decline. Of New Zealand's 67 territorial authorities, 56 are expected to experience flat or declining growth at some point in the next 30 years (using the median projection).121 These projections come with considerable uncertainty, however. Only 23 territorial authorities are forecast to grow in the next 30 years, with a high degree of certainty.122
With a falling number of infrastructure users, it will be challenging to continue funding operational costs, particularly where the fixed costs of operation are high. For infrastructure that's commercial, some services will gradually reduce or be replaced with lower-cost alternatives, as has occurred with bank closures and internet banking. 123 For non-commercial infrastructure, the transition may be more difficult. Local authorities will need to find ways to reduce or even decommission infrastructure to manage the financial burden of maintaining underutilised assets.
"The link between depopulation and funding pressures should not be underestimated. […] [As population falls the economic base from which to draw revenue falls. […] Once started, population decline is near impossible to reverse. Yet, there is no guidance and few clear success stories of local communities that have downsized their assets. It's not uncommon for elected officials to take the view that if a local authority assumes or starts planning for decline they'll make it happen."
– Taituarā, Local Government Professionals Aotearoa
Improving population certainty can help guide infrastructure decision-making.
New Zealand's population is expected to grow significantly in the next three decades (see Figure 10). We have the potential to gain significantly from this growth. However, if growth isn't adequately planned for or anticipated, it can create infrastructure problems that erode the benefits of growth and undermine public acceptance of a growing population. Volatility in population growth might place pressure on absorptive capacity.
Predicting population growth comes with a high degree of uncertainty, however. Historically, median projections have been both far below and far above experienced populations (see Figure 19). Because infrastructure is long -lived and often requires long lead times to be provided, expectations of growth trajectories are important for delivering the right infrastructure, in the right places, at the right times. The uncertainty of demand through changing population trends can also impact investment decisions. This is because, for infrastructure providers, a population growing more slowly than anticipated creates financing risk and a place that reaches a smaller total population than expected creates funding risk.
A long-term and stable National Population Plan should focus on reducing the uncertainty of future demand for long-lived infrastructure services at the national level, while respecting individual choices on where to live and work. It can also provide direction for regional spatial and infrastructure planning and support policies that shape growth across New Zealand.
Predictions of future population are uncertain
Figure 19: Historical population growth compared with historical population projections
Source: Te Waihanga, adapted from Statistics New Zealand (2021)[124]
Securing and integrating freight and supply chains and services
Reliable transport networks are critical for the regional economy.
The efficient movement of freight into, out of and around New Zealand is critical to the economy and our international competitiveness. Reliable transport networks, including road, rail, ports, airports and inland freight hubs, all support our freight sector and provide connections to markets within New Zealand and overseas (see Figure 20). They're especially important for our regions, which produce the bulk of the goods sold overseas. There's also a clear link between infrastructure investment in a region's transport connections and its prosperity.125,126,127 Quicker travel times enable markets to become more integrated. As this occurs, regions benefit from lower prices and a greater movement of people, goods and services.
By 2052, the volume of freight moved around New Zealand is expected to increase by almost 40% (from about 280 million tonnes in 2017 to 2018, to nearly 400 million tonnes by 2052 to 2053).128 As volumes grow, the issues already faced by our freight system will increase and worsen. We'll need to invest more in our transport network and ensure it works more efficiently to manage these increased levels of freight.129
The freight sector faces a number of challenges.
There's a degree of fragmentation in the freight sector. Freight and logistics services are provided by the private sector in New Zealand.130 Most of the transport infrastructure that supports these services is owned or managed by central or local government entities.131 Improvements in these ownership and governance structures may be possible,132 to reduce bottlenecks that would otherwise result in a slower pace of planning and investment.133,134 The government also controls other levers that can impact the freight system, such as regulation. This fragmentation needs to be overcome so that we can make the best use of our national supply chain.
Other challenges for our freight sector include the following.
The resilience of our supply chains to shocks and stresses, such as the need to adapt to climate change, earthquakes and cyber-attacks.
Adapting to pressures associated with the COVID-19 pandemic, such as reduced international air freight capacity, increasing costs and changes to distribution and storage models.135,136
The need to keep up with international trends for much larger volumes of freight and increased efficiency.137 These include the digitisation and automation of supply chains and the introduction of bigger ships.
The need to reduce freight-sector carbon emissions to meet our net-zero carbon emissions target, as well as the need to adapt to evolving consumer preferences (such as for locally produced and eco-friendly products).138
The impacts of population growth on our freight system. This could reduce the availability of land for storing freight and increase traffic congestion affecting freight movements.139
New Zealand's regions are connected by infrastructure
Figure 20: Selected seaports, airports and road and rail connections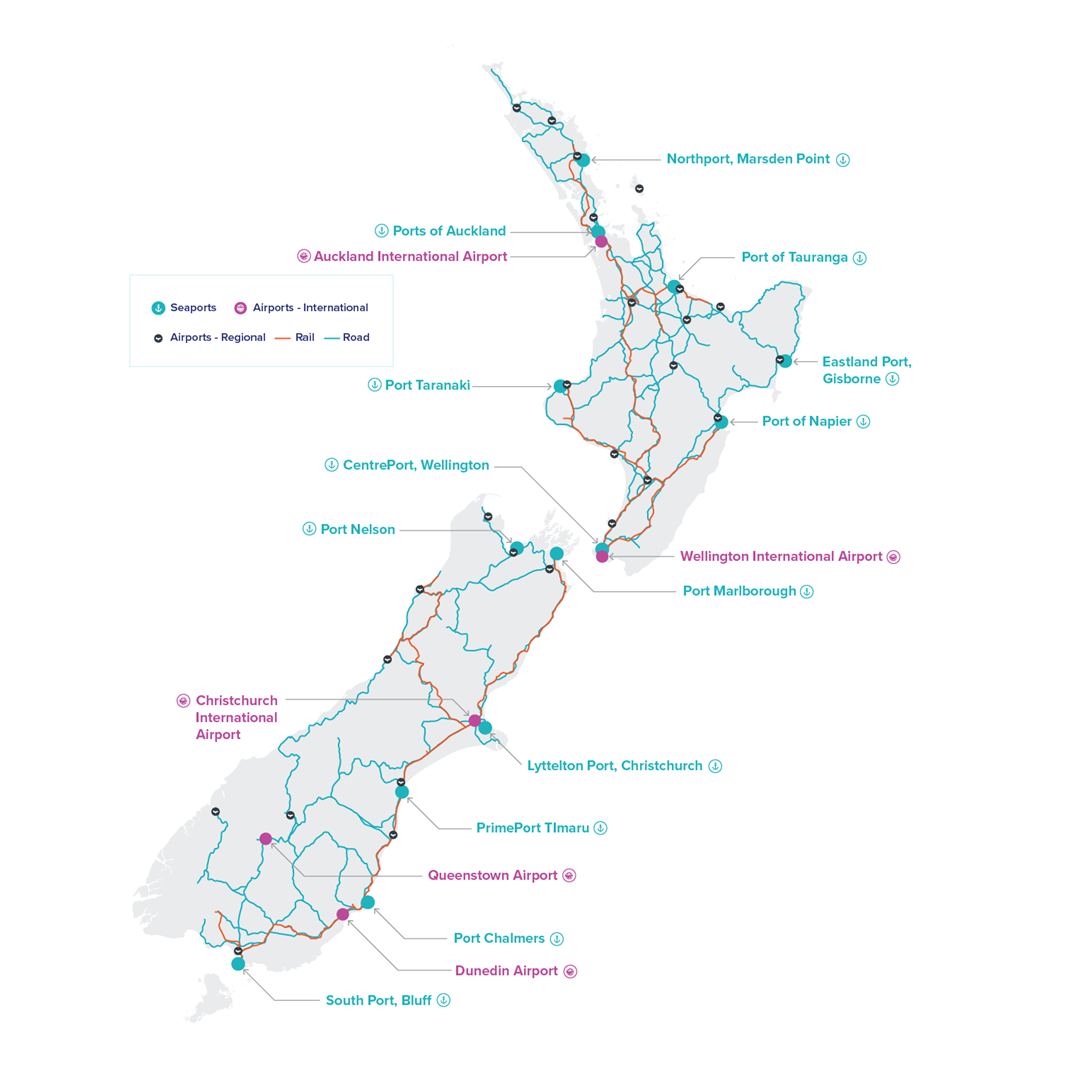 Source: Te Waihanga, data from Waka Kotahi (2021), Ministry for Primary Industries (2021), Land Information New Zealand (2021), World Port Source (2021)
A national freight and supply chain strategy is needed to provide direction for the transport network.
Central and local government and the private sector need to work together to develop a strategy that can better coordinate planning across the entire transport network and prioritise investment. The National Freight and Supply Chain Strategy, which is currently led by the Ministry of Transport, should look at all transport modes (land, air and sea) and the whole network and focus on removing barriers to freight movements on important routes. The strategy also needs to address the challenges facing the freight network and provide for competition and choice for freight users. The strategy would feed into regional spatial planning and build on existing transport and freight-related strategies and planning, including the New Zealand Rail Plan,140 the Waka Kotahi Arataki 10-year view 141 and regional strategies like the Auckland freight plan and the Western Bay of Plenty Urban Form and Transport Initiative.142,143
Regional spatial planning will support our international and domestic trade.
We need to plan ahead for the roads and other transport connections we'll need to move freight, as it can be hard to build these once other development has occurred. Protecting and purchasing land early can help keep costs down and safeguard an efficient future network. Regional spatial planning is a tool for ensuring that the infrastructure needs of the freight network are part of the decision-making about how the land is used. These plans can also ensure that planning for freight infrastructure is part of economic, social and environmental strategies, supports Māori partnership and is consistent with Te Tiriti o Waitangi.
Regional spatial planning
Regional spatial planning is long-term, strategic planning for how land will be used in a region.144 It gives infrastructure and planning institutions the means to engage and collaborate with each other, mana whenua, the private sector and communities. Spatial planning brings together key public services, physical and non-physical, across a defined area to identify how to respond to long-term service-delivery needs. While spatial planning can occur at a national or local scale, it's usefully applied at the regional level. Sound governance arrangements are needed for it to succeed.
Spatial planning is an opportunity to rethink how we plan infrastructure and services to keep pace with future population and economic growth. It uses 'place' as a framework for integrating and aligning infrastructure service provision.145 Achieving it requires infrastructure providers, land-use planners and other stakeholders to develop shared frameworks for how cities and regions should grow and change over time. Spatial planning should cover issues like how we'll open up opportunities for homes and businesses to be built, how we'll meet the needs of future residents with infrastructure networks and social infrastructure like schools, parks and hospitals and how we'll manage natural hazards and protect areas with environmental or cultural significance.
Good spatial planning allows for a range of futures over an extended timeframe, such as future with faster-than-expected growth that could result in a city's population doubling or tripling in the long-term.146 It addresses housing supply and affordability, manages pressure on infrastructure and provides for future economic activity and export activity, as well as rural lifestyles, particularly in regional areas. Spatial plans should avoid prescriptive rules about where people will live and work, in favour of taking a long-term view to identify, develop and build agreement on significant region-shaping future projects.147 A spatial plan does not sit in isolation. It requires a range of supporting planning documents that are consistent with the plan, including district plans and infrastructure funding plans.
History shows that identifying and protecting future infrastructure networks is a crucial part of regional spatial planning. For example, the 1811 Commissioners' plan for New York City set out the street grid for all of Manhattan at a time when only a small portion was inhabited. That street grid is still used today. Barcelona's Cerdà plan looked at how the city could expand beyond its medieval city walls,148 while Copenhagen's 1947 Finger Plan149 laid out future transport networks and regional parks that have accommodated significant growth. These plans have adapted well to economic and population changes, of which some couldn't have been anticipated when they were first developed.150 For example, allowing for wide, straight roads made it easy to build subway systems in New York and Barcelona.
Spatial planning should use a depth of evidence and data to inform regional growth and provides opportunities to apply new smart-city technologies. It should be supported by good information on how much growth infrastructure networks can manage and options for upgrading them. Digital twins can be applied to spatial planning to bring real-time data on asset condition and usage into the planning process and establish consistent data standards across regional spatial plans to ensure comparability throughout New Zealand.
Using technology to improve regional advantage and adapt to rapid change
Digital connectivity can transform regional New Zealand.
The long-term trend of increases in internet speed and coverage, as well as the falling cost of digital connections, provides opportunities for New Zealand's regions.
Digital connectivity can transform the way infrastructure services are provided in regional New Zealand, particularly in rural areas, by closing the disadvantage caused by distance. For example, where people in remote areas might have previously needed roads to connect to work, cellphones and internet access are an increasingly good substitute for a broad range of jobs.
Digital connection is essential for a wide range of economic, social and cultural connections including work meetings, online banking, remote learning, virtual health consultations and applying for government services like passports and car registrations. Case Study 4 highlights the benefits of telehealth, which can improve access to health services if people have good digital connectivity.
Over time, digital connectivity will likely become ever more fundamental. The importance of connectivity was recognised internationally in 2016, when the United Nations General Assembly passed a non-binding resolution declaring internet access as a human right.151 The satellite technology required for universal access is increasingly available, meaning the biggest challenge in the future will be the affordability of access.
Case studies
The solutions to the issues we face have often been shown to work here and overseas. These case studies are an example to learn from.
"The lack of accessible, affordable high-speed digital connectivity in rural areas remains a significant issue. It is an impediment to business, but it goes well beyond this; it is a significant barrier to maintaining vibrant rural communities."
– Agribusiness Agenda 2021 [153]
A national digital strategy will provide a pathway for quality digital access for all New Zealanders.
However, better technology comes at a cost and it's not always economically feasible for private providers to roll it out to parts of regional New Zealand without government support. Despite 86% of New Zealanders being connected to digital services, broadband quality varies across regional New Zealand (see Figure 21) and there are still significant gaps within rural communities.
Options for shared ownership of infrastructure (as illustrated in Case Study 5) and new technologies like broadband via satellite networks, may help to bridge the gap.154,155 However, a national digital strategy is required, that sets out a path for universal access to quality digital services in areas where people live and work, and addresses issues of inequity and disadvantage. This is fundamental for the wider infrastructure system.
Case studies
The solutions to the issues we face have often been shown to work here and overseas. These case studies are an example to learn from.
Broadband quality is variable across New Zealand
Figure 21: Underserved broadband end users by quality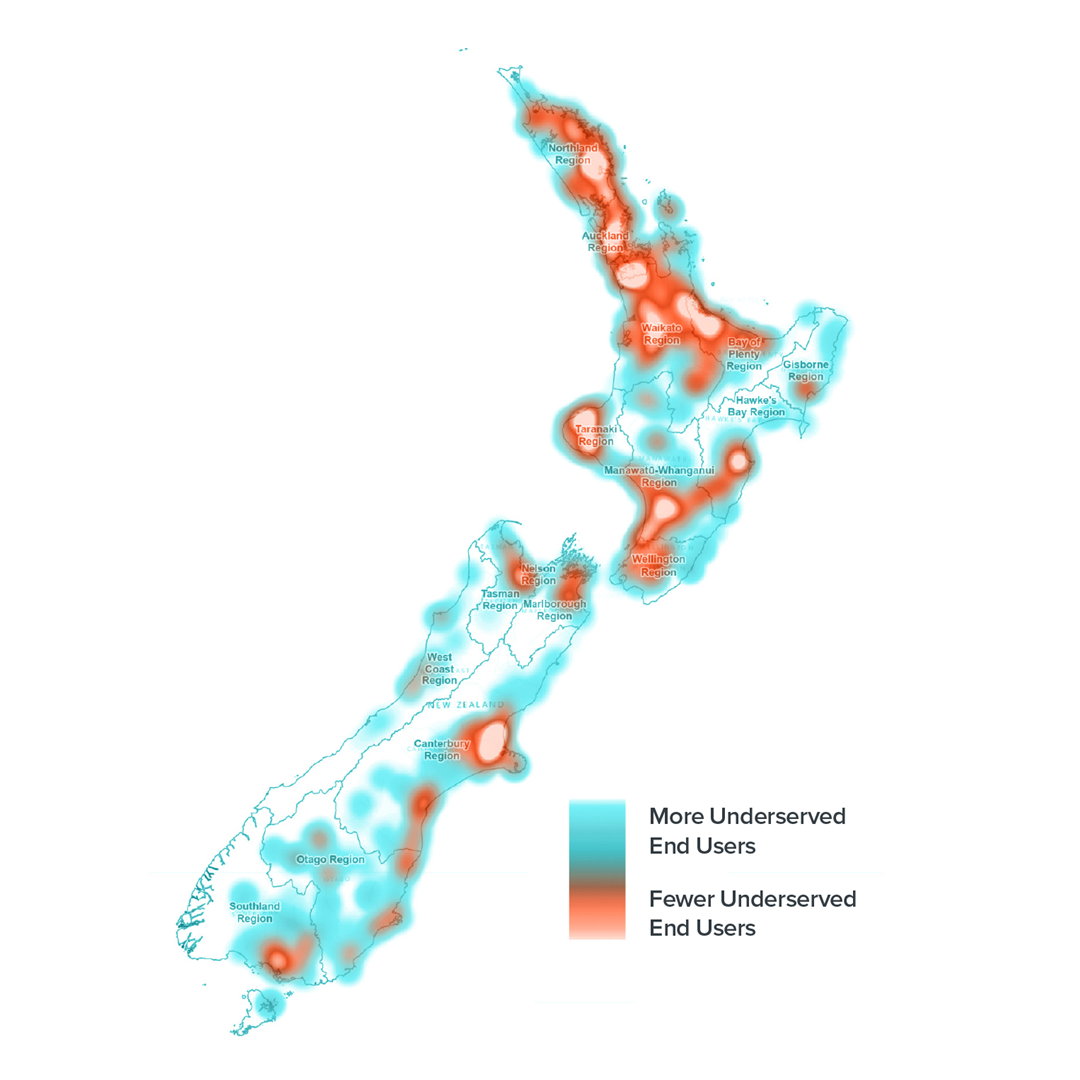 Source: Te Waihanga, data from Crown Infrastructure Partners (2020)