6.4. Strengthening resilience to shocks
and stresses
Te whakapakari i te manahau i ngā oho me ngā pēhanga
6.4. Strengthening resilience to shocks and stresses
New Zealand faces a range of shocks and stresses. Our infrastructure is resilient in the face of these.
New Zealand is vulnerable to a wide range of shocks and stresses. These range from natural hazards such as earthquakes, tsunamis, floods and pandemics, to manmade threats such as terrorism and cyber-attacks. While we can't predict everything the future will bring, we do know that there's a high risk of some of these occurring. There's a very high likelihood of a catastrophic earthquake from the Alpine Fault in the next 50 years. We're going to experience rising sea levels and more frequent floods and droughts as the climate changes. Cyber threats will become more widespread as digital technologies and the internet become increasingly embedded into the fabric of our society.
We might not be able to prevent these shocks, but we can do more to prepare for them. This can be challenging as our infrastructure is more complex than ever, and many parts of it are dependent on others. For this reason, we'll need to take a coordinated and collaborative approach in our efforts to prepare for and respond to the risks we face. This will help us to maintain or improve the capacity of our infrastructure to absorb and bounce back from shocks and stresses. Actively building resilience into our infrastructure is an important part of the legacy we will leave for future generations of New Zealanders.
Our infrastructure is vulnerable to hazards.
New Zealand sits on the boundary of two active tectonic plates and is at risk of natural disasters like earthquakes, landslides, volcanic activity and tsunamis. Earthquakes are frequent and widespread, as shown in Figure 24. There's a 75% chance of an Alpine Fault earthquake of magnitude 8, or greater, occurring in the next 50 years.221
Climate change also poses significant risks to New Zealand's infrastructure. It's increasing the number of storms and floods, as well as the risk of inundation due to sea-level rise.
New Zealand's geography, with its remote regions and hilly terrain, makes it harder to ensure that infrastructure networks, like roads and power lines, are resilient to shocks and stresses. Adding to the challenge is the way infrastructure services rely on each other. It means that the impacts of a disaster on one service can affect those on another. There are some technologies, such as solar panels and battery storage, that don't always rely on a network and can help to provide buffers for shocks, but for the most part infrastructure networks are highly interdependent.
Manmade threats, such as cyber-attacks, are growing in prevalence and sophistication as infrastructure becomes more connected and reliant on technology. A high proportion of our economy now relies on our telecommunications infrastructure, and the majority of our internet capacity is delivered through three critical sub-sea cables.
National State Highway network and observed shallow earthquakes from 2010 to 2020
Figure 24: Earthquakes are a widespread challenge for infrastructure.222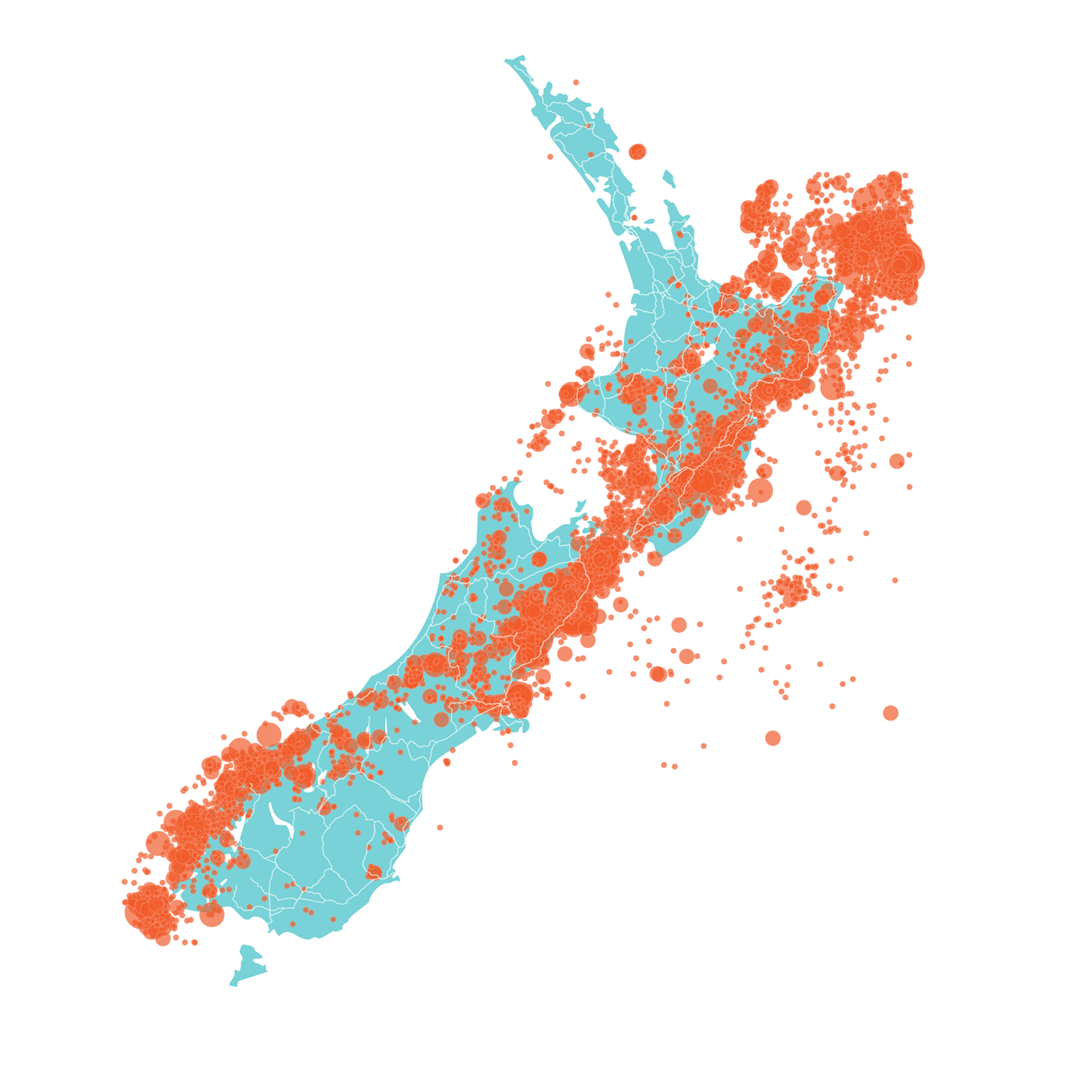 Source: Adapted from Geonet (2021)
Shocks and stresses can harm people, property and the economy.
Natural disasters, severe weather events and manmade threats can cause deaths and displace people from their homes. They can also damage properties and have indirect impacts in reducing economic activity. The cost of disasters has risen in the past 30 years, as shown in Figure 25, in part because our towns and cities have increased in size and complexity. Damage to infrastructure and buildings imposes huge public and private costs. In 2013 the Treasury estimated that the damage caused by the Canterbury earthquakes cost over $40 billion, the equivalent of 20% of GDP.223 New Zealand has recently been ranked second globally for natural disaster costs as a proportion of GDP.224
Major disasters can result in large losses, and the prevalence is increasing
Figure 25: Total insured losses due to natural disasters from 1980 to 2020
Source: Te Waihanga, data from Insurance Council of New Zealand (2021)[225]
The National Disaster Management Strategy defines resilience as: "The ability to anticipate and resist the effects of a disruptive event, minimise adverse impacts, respond effectively post-event, maintain or recover functionality, and adapt in a way that allows for learning and thriving."[231]
There can also be spillover effects. Over time employers can choose to shift away from areas affected by disasters and wider supply chains can be severely disrupted. Modelling by the Wellington Lifelines Group found that if there were no investment in making the region's infrastructure more resilient, a magnitude 7.5 earthquake on the Wellington Fault would create a $16 billion drain on the economy, excluding recovery costs and building damage.226
Our insurance system, including Earthquake Commission cover, has historically provided a buffer against many of the financial impacts of shocks and stresses. However, insurance markets are evolving and we are seeing a reduction in domestic competition, rising premiums and excess charges, and an increasing scrutiny of risk by reinsurers that is affecting asset owners.227 The increased risk of extreme weather events and sea-level rise also mean that our infrastructure assets will become more difficult to insure at a reasonable cost, creating operating-cost pressures for asset owners.228 These factors are leading public sector infrastructure owners to assess their insurance options strategically, with options including self-insurance and insuring specific assets only. They will require more accurate resilience data to help support these assessments.229,230
The COVID-19 pandemic has disrupted our ability to deliver infrastructure and provide services. It's also affected the way we use services provided by infrastructure, in particular transport and telecommunications. On top of this, it's directly disrupted infrastructure construction and the movement of goods that support our economy, including the infrastructure industry.
A recent Australian study found that the indirect and intangible costs of natural disasters were more than double the reported costs of these events.233 Vulnerable and isolated communities are often disproportionately hard hit by disasters and shocks.
To help minimise the impacts on and disruption to our communities and our economy, New Zealand's infrastructure and the systems and people that support it need to be resilient to a wide range of shocks and stresses, known and unknown.
"The ability of infrastructure systems to function during adverse conditions and quickly recover to acceptable levels of service after an event is fundamental to the wellbeing of communities."[232]
"Our key infrastructure is vulnerable to natural disasters" was rated as 'very important' by 52% of respondents in the Aotearoa 2050 survey of infrastructure issues. During consultation, submitters told us they felt it was important that New Zealand develop a common definition of and framework for critical infrastructure and then use them to identify this infrastructure.
A number of South Island councils highlighted the significant earthquake risk posed by the Alpine Fault. Some submitters also felt that resilience should be discussed in terms of 'all hazards', not only earthquakes and natural disasters. Some also noted the importance of planning effectively and not encouraging development or intensification in areas and suburbs with high natural-hazard risks, such as flood plains, active faults, volcanic fields, coastal hazard zones and land susceptible to instability.
Submitters identified the need to align government work on resilience such as the proposed National Adaptation Plan with the work of the New Zealand Lifelines Council and the Earthquake Commission, to ensure consistency. It was also considered important to align planning for and the development of new infrastructure (including services to support new housing) with appropriate hazard risk assessments:
"Given the scale, importance and life expectancy of critical infrastructure, there is prudent need to take a 100 year planning horizon and be built to a standard that can withstand natural hazard and climate change impacts." – Greater Wellington Regional Council
Some believed more weight should be given to cyber risk and security.
"Ransomware and cyber-attacks on systems are reminders that any digital system needs to be secure. The sector is slow to adopt technology and is dominated by SMEs, the nature of their projects do not need them to engage with new technology. However there is increasing recognition that digital technologies can help run smart businesses." – Construction Sector Accord
A coordinated approach to our critical infrastructure is essential
New Zealand has developed an all-hazards approach to risk management.
New Zealanders rely on critical infrastructure to lead safe, secure and fulfilling lives. For this reason our infrastructure systems must be resilient to a range of hazards and risks, both natural (such as earthquakes) and manmade (such as cyber-attacks and terrorism).
New Zealand's infrastructure owners have primary responsibility for managing risks to their operations, including national security risks. This responsibility is complemented in some sectors by regulatory requirements, with each regime's requirements tailored to reflect its unique market structure, ownership structure and risks.234
New Zealand's approach to infrastructure hazard readiness and response is set-out in the Civil Defence and Emergency Management Act 2002.235 This Act:
Sets out the requirements for and responsibilities of providers of lifeline infrastructure services, such as water and electricity, in central government, local government and the private sector.
Identifies 'lifeline utilities' as providers of critical infrastructure services, sets out the requirements for the coordinated preparedness and continuity of these lifeline services in the event of an emergency, and includes information-disclosure requirements.
Requires the preparation of a National Disaster Resilience Strategy and National Civil Defence Emergency Management Plan, which cascade into coordinated local plans.
The Civil Defence and Emergency Management Act requires lifeline utilities to 'function to the fullest possible extent' following an emergency. Infrastructure asset owners and operators have invested to support this objective. An example is the work of the New Zealand Lifelines Council and regional Lifelines Groups, which are building, with government support, awareness of the investment needed in coordinated resilience before and after an event.
Other risks that affect infrastructure resilience are being managed across sectors. For example:
Risks posed by overseas investment (for example, risks of economic coercion and data theft) are managed by the Overseas Investment Act 2005.
Infrastructure owners and operators are supported in managing cyber and other national security risks by Government agencies, including the intelligence community, who provide guidance (such as the New Zealand Information Security Manual),236 expertise and specialist technical capabilities.
Climate change risks and responses are being considered through the development of a National Adaptation Plan.
We have a skilled and dedicated risk management workforce in the private sector and at all levels of government, supported by engineers, academic researchers and community volunteers. This means we generally respond quickly and effectively to natural disasters. Fatalities and injuries as a result of disasters and shocks are low. This provides a solid foundation to build on.
We need to define and identify our critical infrastructure.
International best practice is to define and identify the critical infrastructure, systems and supply chains that are essential to support life, the functioning of communities and our economy. The resilience of those assets and systems then needs to be appropriately planned for and managed. This ensures that the parties involved in planning for disruptions and managing risk have a common language and are coordinated. It also means that the parties that manage infrastructure are able to plan for the services they can provide in the event of shocks and stresses.
The OECD recommends developing a shared understanding among government and critical infrastructure owners and operators of the 'optimal' level of resilience against all hazards and risks.237 A shift towards framing objectives around desired resilience instead of individual owners' risk tolerance and appetites, will provide a connected and consistent national picture of hazard-risk management and lead to more consistent decisions over time.
The following steps should be taken to help further ensure our infrastructure system is resilient:
Define and identify critical infrastructure: A principles-based definition of critical infrastructure should be developed to align with international best practice. Once developed, this definition should be adopted across policy and legislation to ensure a coordinated and consistent treatment of critical infrastructure. The government should set criteria for what is and isn't critical to support decision-making and the prioritisation of investments.
Identification of minimum service levels: The requirements for identifying minimum service levels for critical infrastructure in the event of an emergency should be clarified and strengthened. These should include requirements for infrastructure providers to disclose information about preparedness and service level expectations. The proactive disclosure of this information will help support transparency. This will help government, individuals and organisations to understand the risks they face and making choices about how best to manage those risks.
Coordinated approach to managing risk: A sustained increase in resourcing is needed to ensure a coordinated approach to managing risk across our critical infrastructure. Lead government agencies need clearer roles for the coordination of resilience activities within and across critical infrastructure sectors. This reflects the interdependencies of infrastructure networks.
These changes are required to clarify expectations of the resilience of our critical infrastructure and the roles and resourcing of the different parties involved in delivering a resilient infrastructure system.
A best practice approach is needed to manage cyber security threats.
The nature and scale of the cyber security risks facing infrastructure are growing. The National Cyber Security Centre recorded 352 cyber incidents between 2019 and 2020, of which 83% were detected before serious harm occurred.238 Our regulatory system is being outpaced by new technologies that are changing what's traditionally thought of as 'infrastructure' (such as cloud storage) and the risks facing it (such as the infiltration and/or compromise of those data sets).
The increasing complexity of and connectivity and co-dependency between different types of infrastructure (such as information technology systems for remotely managing water and electricity networks) also come with cyber security risks. For example, if the information technology system is compromised by a cyber-attack, this may affect the ability to deliver water or electricity. As the use of these technologies continues to grow, the risk associated with cyber-attacks is also growing.
New Zealand should adopt a best practice approach to cyber security, with clear standards for critical infrastructure assets to ensure they're protected and resilient. The management of cyber security risks needs to be a component of the Digital Strategy for Aotearoa (as discussed in Section 7.4). This could be strengthened to ensure owners of critical infrastructure put the right measures in place to protect against cyber risks to information and operational technology.
Security of supply for essential infrastructure materials must be included in risk management planning.
As a geographically isolated country that's reliant on imports, New Zealand needs stable and resilient networks for moving the goods and services required to construct, maintain and operate infrastructure. Currently, 90% of our construction products are either imported or contain imported products that can't be easily sourced within New Zealand.239 COVID-19 has shown that our international supply chains can respond to shocks, but ongoing disruption still has impacts, with prices increasing and some goods, skills and services becoming hard to obtain.
We rely on either imports or a small number of local manufacturers for many products we need for building new infrastructure (such as steel reinforcing and cement),240 as well as the goods and services we require to maintain and operate existing infrastructure (for example, fuels and lubricants, skilled operators and technicians, silicon chips and other technologies). Limits on our ability to access any of these critical inputs, whether arising from natural disasters, supply chain constraints or intentional acts, would have significant negative implications for the safety and security of all New Zealanders. We need a secure supply of essential materials and services so we can continue to build, renew and maintain our infrastructure and recover from any significant disaster. This should form an important part of risk management planning.
A planned approach to adapting to climate change
A National Adaptation Plan will provide a coordinated national approach to managing climate change risk.
The significance and severity of the impacts of climate change will become more evident over time. Our climate is getting warmer, rainfall patterns are changing, weather events are getting more extreme and sea levels are rising.241 Climate change will increase many of the extreme weather and flood risks already faced by our infrastructure. For example, the Intergovernmental Panel on Climate Change's Sixth Assessment Report forecasts that extreme sea-level events that previously occurred once in 100 years could happen every year by the end of this century.242
The 2020 National Climate Change Risk Assessment identified 43 priority climate risks to New Zealand including risks to buildings, drinking water quality and supply, physical and mental health, indigenous and coastal ecosystems, the economy, the financial system, governments, social cohesion and community wellbeing.
Meeting the challenges of climate change for both existing and new infrastructure assets will be a significant task. For example, a 2019 study estimated that local government infrastructure to the estimated value of up to $8 billion is at risk from 1.5 metres of sea level rise.243
In response, the government is developing a National Adaptation Plan for climate change.244 This will set out the work needed to prepare New Zealand for the challenges of a changing climate, including the actions we need to take to ensure our infrastructure and the systems that support it are resilient.
The National Adaptation Plan as proposed contains a number of objectives for infrastructure.
These proposed objectives are as follows:
Reduce the vulnerability of exposed assets: Understand where infrastructure, and the services it provides, are exposed and vulnerable to the impacts of climate change. The priority will be to manage risks that affect services.
Ensure all new infrastructure is fit for the future climate: Consider long-term climate impacts when making infrastructure design and investment decisions so that the right infrastructure is built in the right places. Options for adapting to climate change should be understood and financed as part of the business case.
Use renewal programmes to improve our ability to adapt: Consider the future climate when maintaining, upgrading, repairing and replacing existing infrastructure. The process for managing infrastructure should include reviewing resilience, improving the ability to adapt and planning for how services will be provided into the future.
The National Adaptation Plan is a coordinated, national approach to managing climate change risk and progress will be monitored by the Climate Change Commission.
Making information and tools that support resilience available and accessible
Access to the best available information on hazards and threats helps in assessing risk.
Giving the government, organisations and individuals information about hazards and threats can help them to make good decisions on insurance, location and design options when they're planning infrastructure.245 For individuals, it can help them to plan what they'd do if a disaster meant they wouldn't have services like water or power, and it can also be useful when buying and building property. For organisations, it can help them to plan on how to operate during a disaster and inform asset management. For central and local government, using the best available hazard information (for instance, see Figure 26) and tools when developing regional spatial plans and planning documents and making other infrastructure investment decisions will help them to reduce the risk of harm and the costs of poor investment.
Sea levels are rising
Figure 26: Satellite sea-level observations, change in sea level from 1993 to 2021
Source: Adapted from Physical Oceanography Distributed Active Archive Center (2021)[246]
Mātauranga Māori is a valuable source of information for risk management planning.
"Mātauranga Māori – Māori knowledge systems and practices hold a key to climate change response. Mātauranga Māori is community-based and collective knowledge that offers valuable insights that complement Western scientific data with chronological and landscape specific precision and detail. This is critical to verifying climate models and evaluating change scenarios. Māori knowledge systems and practice provide a strong foundation for community-based adaption and mitigation actions. Mana whenua have been able to observe and interpret change through the environment within Tāmaki Makaurau over many generations." — Auckland Council247
Natural disasters like earthquakes, volcanic activity and major floods occur infrequently but have large impacts when they happen. For instance, a major Alpine Fault rupture occurs every 300 years on average, with the last significant quake occurring in 1717, prior to European settlement of New Zealand.248 Research on how people rebuild after natural disasters shows that awareness of natural hazards can fade within three generations or fewer.249 In this context, traditional knowledge, such as mātauranga Māori can play a role in identifying hazards that occur infrequently. Case Study 9 highlights how information about natural hazards can be preserved and used over time to protect people and infrastructure.
Case studies
The solutions to the issues we face have often been shown to work here and overseas. These case studies are an example to learn from.
A coordinated approach to information collection and management is needed.
We need a coordinated approach to the long-term upkeep of research, data sets and tools that are useful for resilience planning and preparation. This information needs to be readily available for use by planners and decision-makers.253 It should also include a consideration of mātauranga Māori. As a rule, the information should be useful, useable and used.254
The research community, including universities, Crown Research Institutes and others, also contribute strongly to increasing the knowledge base for infrastructure resilience. Further coordination and information-sharing between government, industry and academia would strengthen the links between scientific research and decisions on infrastructure policy and delivery.
There are multiple examples of research, data sets and tools that have been developed and could continue to support planning and decision-making processes that lead to more resilient outcomes, a better understanding and management of risks and lower costs in the long-term. The data sets and tools include:
The National Seismic Hazard Model.255
Tools that aid planning, such as the National Forward Works Viewer.256
Tools that support risk and economic impact assessment of hazards, such as the Measuring the Economics of Resilient Infrastructure Tool.257
Information disclosure and data availability should be driven by a requirement to disclose information relating to infrastructure service levels, as set out above, and encourage active communication of this information to infrastructure planners and users.