7.3. An enabling planning and consenting framework
He anga whakaahei whakamahere, whakaae hoki
7.3. An enabling planning and consenting framework
Our planning and consenting system needs to be strategic, coordinated and commensurate with the urgency of the challenge.
We use the planning and consenting system to make decisions on how we protect and use natural resources like our water and land. There are many organisations involved in this system, including central government agencies, regional councils and territorial authorities. There are also many policies that affect the planning system, such as national policy statements, environmental standards and regional, unitary and district plans.
It's often a long and costly process to gain planning approval for infrastructure. This will make it difficult to provide the infrastructure we need to meet future challenges, such as those relating to a net-zero carbon emissions economy, larger populations, affordable housing and a greater resilience to shocks and stresses, as well as lift our environmental performance. Our planning system must enable us to get the infrastructure we need to meet these challenges.
A good planning system provides a number of benefits for infrastructure.
A good planning system:
Enables infrastructure to be constructed, maintained and upgraded in a timely way to ensure that the government can fulfil its obligation to deliver infrastructure services.
Efficiently manages the environmental impacts of infrastructure development in ways that are proportional to the magnitude of impacts.
Considers the benefits of infrastructure provision, including national environmental benefits from reducing greenhouse gas emissions, as well as the costs.
Coordinates across multiple institutions and provides clear and certain guidance on how to consent projects.
Our planning system slows down essential infrastructure projects.
New Zealand suffers from long delays between project planning and delivery. Many infrastructure projects must go through a resource consent or designation process. Resource consent applications typically require detailed analyses of the environmental, social, cultural and economic impacts of projects. They're tested through a hearings process that has been described as adversarial, with the right to appeal decisions to the Environment Court or High Court. This process can take a long time and is costly for everyone involved.405
As well as requiring resource consent, infrastructure projects can require approvals from multiple agencies, including funding approval. Some infrastructure projects, such as schools and hospitals, also require a building consent. When these approval processes are poorly coordinated, they can add further costs and delays, or even halt a project.406
Infrastructure requires special consideration within the planning framework because of its unique characteristics.
Infrastructure often depends on an entire functioning network such as a water system or transport network. Its benefits are usually distributed over a large area. These benefits can serve whole communities (in the case of a school or town hall), cities (through a road network), regions (through a water system) or all of New Zealand (through our country's electricity network). We rely on a planning system that recognises and enables infrastructure that delivers these wider benefits.
It can take years to get consents for infrastructure projects like wind farms.
Figure 32 shows the time taken to obtain a resource consent decision for 10 wind farm applications. Four were for wind farms exceeding 200 megawatt capacity and six were for smaller wind farms.407 In every case, the consenting decisions for large projects took more than three years. The longest took more than five years and was withdrawn. The average for the four larger wind farms was 3.8 years, compared to 1.8 years for the smaller wind farms. Reducing consenting timeframes for large wind farms will be essential to meeting our net-zero carbon emissions targets by 2050.
No consent applications have been made for offshore wind farms, but they could occur in the next 10 years. Among European countries, Denmark and the United Kingdom appear to have the fastest consenting timeframes, at less than 1.5 years for offshore wind farms.408 There are similarities in their consenting processes that we should consider when reviewing our onshore and offshore consenting systems.
Consents take far longer for large wind farms
Figure 32: Time taken to consent wind farms in New Zealand
Source: Te Waihanga
Consenting delays are only the tip of the iceberg.
Public infrastructure projects can be delayed for many reasons, including poor coordination among organisations making decisions. For example, Auckland's Northern Busway was originally proposed in 1987 but was only completed in 2008. The 21-year timeframe was primarily caused by the number of planning and funding agencies involved, rather than consenting delays.409 Auckland's second busway, the Eastern Busway, is currently scheduled for completion in 2028, over 20 years since planning began.410 By contrast, Brisbane's first busway was proposed in 1995 and completed in 2001, only six years later.411 Brisbane delivered two more busways between 2004 and 2011.412
Consenting infrastructure is costly and the costs are increasing.
The resource consenting process is not only time consuming, but also costly (see Figure 33). On average, consenting accounts for 5.5% of the total cost of infrastructure projects.413 It includes application preparation and hearing costs, as well as financing costs due to delays. These costs appear to be higher than in other developed countries.
The time it takes to gain consent is another important cost, with considerable differences across projects. A consent decision takes between 63 and 91 days for a typical project, but increases to between 167 and 214 days for projects that are a little more complex. For even more complex projects, the time increases to between 365 and 425 days. Each day taken up by this process corresponds to approximately $4,000 in direct costs incurred by the applicant. It's important to identify opportunities to speed up the consenting time for infrastructure projects so that communities, cities, regions and New Zealand as a whole can make the most of the shared services that infrastructure provides.
The cost of consenting appears to be rising over time, as councils are taking longer to make decisions and application requirements are becoming more complex. Consenting costs and project delays can be significant even for relatively straightforward infrastructure upgrades, as shown in Figure 33. Consenting is also disproportionately large for smaller projects. It accounts for more than 20% of the cost of projects under $1 million but less than 2% of the cost of projects over $100 million.
The consenting process can add significant time and cost to projects
Figure 33: Key statistics on the time and cost impacts of infrastructure consenting processes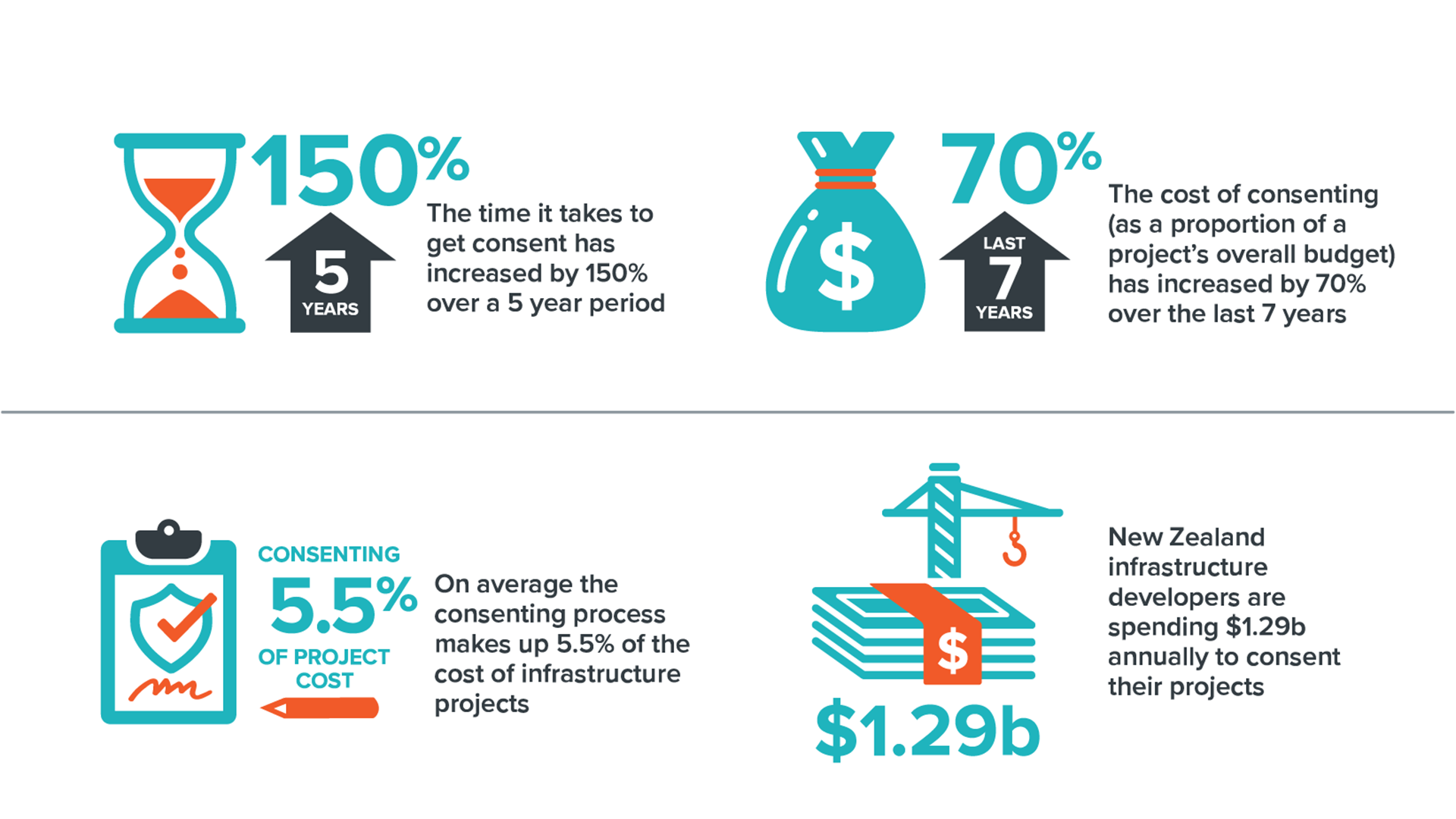 Source: Te Waihanga, data from Sapere (2021)
Infrastructure consenting costs an estimated $1.29 billion every year. If we were able to reduce this by 50%, we would save the same amount of money that's needed to build an additional 270 megawatts of wind generation capacity every year. This would be enough to meet over half of our net-zero carbon emissions goals, which requires us to build around 490 megawatts of renewable energy generation every year.
Source: Sapere, Transpower, Te Waihanga Analysis414
In the Aotearoa 2050 survey undertaken by Te Waihanga, 82% of respondents said that the environment should be either a 'very high' or 'high priority' when making decisions on how New Zealand should get ahead with its infrastructure. The length of time it takes to build new transport options was ranked as the fifth most important infrastructure issue.
Infrastructure providers have told us that a significant increase in the rate of investment in infrastructure will be required. The existing planning system poses challenges to this by adding uncertainty, time and cost.
Enabling the government's obligation to deliver infrastructure
The planning system must enable infrastructure to be delivered as required by legislation.
Legislation415 requires the government to ensure that the wellbeing of New Zealanders is upheld and improved through:
The supply and use of electricity.
The supply of telecommunications.
An effective, efficient and safe land transport system.
The protection of the interests of New Zealand.
Public safety and the maintenance of a just society.
Improving, promoting and protecting public health.
Access to free enrolment and free education.
The supply of 'safe drinking water' and meeting obligations regarding wastewater and stormwater.
These services are delivered in many ways. For example, the government owns and maintains infrastructure such as state highways, defence facilities, hospitals and schools. For other types of infrastructure, such as water networks, it sets the quality standards that local government must comply with. For electricity and telecommunications, which are delivered privately, the government must ensure that policy and regulations enable firms to deliver services to New Zealanders in the most efficient and effective way.
The resource management reforms need to enable the government to deliver on this legislative mandate, rather than inhibit it. The proposed Natural and Built Environments legislation doesn't need to relitigate whether it's the right decision to improve safety on a road, build a new prison or upgrade a transmission line. The mandate to provide for infrastructure has already been given to the government under existing legislation.
Instead, decision-makers under the proposed National and Built Environments legislation should consider 'how' legislatively mandated infrastructure can be delivered within environmental constraints, not 'if' the infrastructure should happen. The planning system should lead to decisions that improve social and economic outcomes, while balancing the need to protect the environment. The outcomes could be safety on a road, increased prison capacity or extra transmission lines to meet electricity demand. Decision-makers will need to consider how infrastructure that's required by legislation can be delivered in ways that meet the requirements for protecting the environment.
Resource Management Act directions have been applied too broadly.
The Resource Management Act (RMA) focuses on environmental planning. Under the RMA, conditions can be imposed on infrastructure providers to avoid, remedy or mitigate the environmental effects of their projects. These conditions have become very broad, increasing costs and affecting the viability of some government projects. For example, the RMA has been used to require unrelated activities such as establishment of mussel beds,416 the construction of a national hockey stadium417 and redevelopment of a pony club to be funded in order for an infrastructure project to gain consent.418 In some cases the definition of an 'effect' has extended beyond the management of natural and physical resources to effects like impacts on neighbouring businesses.
Other regulation that creates unintended barriers should be reviewed.
The RMA isn't the only example of regulation that can create barriers to infrastructure provision or increase costs. Regulations that are intended to achieve other worthy outcomes, such as those relating to environmental quality, health and safety and building quality, may deliver limited benefits at a high cost or result in unintended consequences for project delivery.
Anecdotally, some recent changes to health and safety rules may slow down construction without delivering significant safety benefits. Examples include recent changes to temporary traffic management procedures, which have been reported to increase roadwork costs and slow down project delivery in urban areas,419 and requirements to use scaffolding when working on single storey buildings.420 Restrictions on the hours when work can be done may have a similar effect.
While health and safety should be a priority, an evidence-based approach is needed for designing health and safety requirements. Consideration of the costs and benefits of all new requirements is required, focusing on those areas where the benefits of action are demonstrated to be the greatest.
Using spatial planning to coordinate infrastructure delivery
Effective spatial planning relies on well-informed long-term decisions.
Regional spatial planning offers an opportunity to take a strategic approach by considering how different investments in and uses of the land can have wider economic, social, cultural and environmental impacts.421 Regional spatial planning is discussed at greater length in Section 6.2.
Addressing place-based social and economic issues like unemployment, poverty, housing affordability and crime should all be as central to spatial planning as the delivery of roads and water. The longer outlook and strategic nature of spatial planning means everyone involved can commit to a long-term view for the projects and planning initiatives that are needed.
As part of the spatial planning process, all participants (regional councils, territorial authorities, central and local government infrastructure providers, mana whenua and private companies) need to supply high-quality data and information. This can include population growth projections, environmental reports and information on locations suitable for energy resources and sites of cultural, historic or natural significance. This information needs to be regularly refreshed so that decision-makers can make up-to-date decisions when spatial plans are reviewed. Robust and consistent data on these issues is also essential for making informed decisions on consent applications.
However, spatial planning may not work for all infrastructure providers or provide communities with the right infrastructure solutions. Some infrastructure, like electricity generation and transmission, simply has to be placed in certain locations to be viable. Spatial planning must also not impose unreasonable requirements on the ability of private providers to operate commercially. An example would be a requirement to share commercially sensitive information. This is particularly relevant to electricity and telecommunications entities.
Supporting a fast-paced and sustained infrastructure build that meets strategic objectives
The planning system is currently undergoing significant reform and needs to meet the pace of the challenges ahead.
"There is an urgent need to decarbonise the transport and process heat sectors through electrification and to accommodate many more renewable and distributed energy resources into the system ... Meeting this will require the addition of around 25 new, grid-scale, renewable generation and battery developments to 2035 and significant investment to expand and increase the capacity and flexibility of the transmission system."
— Transpower, Transpower Tomorrow, 2018
The current system is 'effects' based. This means it focuses on the impacts that a development or activity may have on the immediate environment. Those seeking consents need to minimise the impacts on other residents, activities and the environment. Under this system, an infrastructure project that makes a positive contribution to the national environment (for instance, a hydroelectric scheme) but a negative contribution to a local environment can be delayed or not given consent. This approach can have a large impact on infrastructure, because infrastructure regularly delivers benefits to a larger group of people than that in the area where it's built.
"We tend to think of fraught environmental issues as environment versus economy. But sometimes the conflict is environment versus environment. Building a hydroelectric scheme on a wild and scenic river is one. Hydroelectricity is good for the environment because it is a way of generating electricity without emitting the greenhouse gas carbon dioxide. Wild and scenic rivers are good for the environment too – they are a precious part of our environmental heritage, and New Zealanders love their rivers."
— Parliamentary Commissioner for the Environment
Quarrying provides an example. Existing quarries need to be expanded and new quarries opened to meet the increasing demand for aggregates such as gravel, which is an essential component in roads, highways, railroads, bridges, dams and other residential and commercial construction. Because of the low value and high transport cost of aggregates, quarries need to be close to demand, which often means being on the edge of cities. But residents are reluctant to live near quarries because of the impacts they have on their local areas such as noise, dust, unsightly views and truck movements. These issues are becoming more of a problem as our cities grow and boundaries expand, and are making it more difficult to gain consent. This in turn can compromise other objectives, such as improving housing supply.
A consistent performance management framework would provide standardised direction on the management of effects like noise and dust.
For nationally and regionally significant activities that can have negative local impacts, there'll always be trade-offs. But the current decision-making framework isn't working well in resolving this and a more consistent performance management framework is needed. This would give a clear and consistent national direction, with clear rules for operators on the management of issues such as noise and dust.
The reform of the existing planning system needs to set clearly prioritised, focused, national objectives that, when appropriate, can override regional and local objectives. Meeting the net-zero carbon emissions target and building cities that are affordable for future generations means infrastructure will need to be built in certain locations at certain times. The government will need to provide national direction on how objectives like these are prioritised.
In some cases, a faster decision-making process for infrastructure will be warranted.
The planning system should recognise infrastructure's unique contribution to achieving wider social, economic, cultural and environmental objectives. Specific guidance is needed to make sure that a clear consenting process exists for infrastructure projects, while still managing environmental effects. The benefits of a faster decision-making process have been seen following natural disasters (such as the Hurunui/Kaikōura earthquake discussed in Case Study 14) when the process was streamlined and infrastructure services were established far more quickly than would have normally been the case under the RMA. With the right enabling environment, New Zealand can build with speed.
New infrastructure can deliver significant public value. Its scale may have some impacts locally but provide substantial regional or even national benefits. Infrastructure can unlock a green economy through sustainable energy, improve water quality for entire regions and reduce congestion in cities. Network infrastructure that operates as part of a system (like roads and power lines) is only as good as its weakest part. For example, electricity transmission can't be delivered with only a 90% complete transmission network and a rail network can't work if rail bridges can't be crossed. Sometimes this type of infrastructure needs to pass through sensitive environments so the rest of the wider network can function properly.
Infrastructure requires a planning system that's more permissive, based on a greater use of national standards and a lower need for consents. It includes more permitted activities, particularly where the effects are well known and understood and/or can be readily monitored. A mechanism is also needed for resolving conflicts between multiple outcomes to avoid the need for litigation.
Case studies
The solutions to the issues we face have often been shown to work here and overseas. These case studies are an example to learn from.