Rautaki Hanganga o Aotearoa
New Zealand Infrastructure Strategy
9. List of recommendations
Links to current government infrastructure reforms and work programmes
A number of the recommendations below, or elements of them, relate to work that's already planned or underway by government. This document summarises some of those government reforms and work programmes that are underway and the relationship to the recommendations.
Section 5 - Strengthening partnerships with and opportunities for Māori
1. Strengthen partnerships with Māori across the infrastructure system of Aotearoa New Zealand
How
Undertake a 'State of Play' of current Māori engagement activity for infrastructure to help inform and educate readers on how infrastructure providers can engage and work with Māori in a way that works for Māori and infrastructure providers.
Identify a lead government agency that will establish a Māori advisory group to develop a framework for strengthening partnerships with Māori in infrastructure planning and delivery. The framework should be based on Te Tiriti o Waitangi and tikanga Māori and consistent with an all-of-government approach. The advisory group should also consider the evolving role of Māori in the infrastructure system and options for ongoing governance and oversight of the framework.
Who
Iwi, Te Waihanga, Te Arawhiti, Central Government, Local Government, Sector
When
2022-2031
Want to know more
2. Develop capabilities and capacity across the infrastructure system for effective partnerships with Māori
How
Put in place a programme to develop capabilities and capacity for effective partnership that should:
Build specialist Māori infrastructure capabilities at the centre of government that can support agencies and Māori.
Consolidate and enhance specific funding for the provision of technical support for iwi with infrastructure planning and delivery partnerships (agency or programme specific).
Broker partnerships with Crown agencies and industry to create fixed-term secondment opportunities for iwi organisations.
Leverage procurement opportunities for Māori across infrastructure policy, planning, delivery, maintenance and research.
Who
Iwi, Te Waihanga, Te Arawhiti, Central Government, Local Government, Sector
When
2022-2031
Want to know more
3. Strengthen the Māori infrastructure evidence base
How
A collaborative multi-decade research agenda should be designed that:
Builds an evidence base exploring how infrastructure planning and delivery out to 2050 and beyond can help empower Māori and enable rangatiratanga.
Builds and disseminates a programme of in-depth case studies from leading Māori infrastructure partnership projects.
Investigates the use of an appropriate national framework for assessing the nationally agreed effects of infrastructure on cultural values (sometimes referred to as a cultural impact assessment, the mauri model or similar), as a supplement to the local, rohe-specific effects (determined on a project-specific basis by iwi and hapū).
Who
Iwi, Te Waihanga, Te Arawhiti, Central Government, Local Government
When
2022-2050
Want to know more
Section 6.1 - Enabling a net-zero carbon emissions Aotearoa
4. Minimise lock-in of future emissions
How
Set a strategic direction in emissions reduction plans that requires public sector investment programmes to be compatible with our international commitments on carbon emissions.
Measures to support this direction should:
Require that infrastructure policies and strategic plans take into account, where feasible, their implications for locking in carbon emissions.
Include a full consideration of non-built solutions and decarbonising existing infrastructure in all business cases.
Require assessments of whole-of-life carbon emissions, including embodied, enabled, and operational emissions, in all business cases.
Require the use of a cost of carbon compatible with international commitments on carbon emissions within all cost benefit analyses, outlined in the Treasury CBAx tool.
Measure the carbon impacts of different construction materials used in infrastructure projects.
Set a timetable for reviewing regulations, standards and codes to ensure they don't inhibit the uptake of low-carbon materials.
This should be cross-sector and reviewed regularly.
Who
Ministry for the Environment (MfE), Climate Change Commission
When
2022-2026
Want to know more
5. Achieve net-zero carbon emissions at minimum cost
How
Develop clear and credible policies and mechanisms for offsetting any differences that arise between actual emissions and our international commitments on carbon emissions.
In developing a National Energy Strategy, include measures that achieve net-zero carbon at minimum cost. These should:
Modify the renewable electricity target to focus on renewable energy.
Reduce barriers to the prudent expansion of transmission and distribution capacity where needed.
Ensure the existing gas infrastructure can be redeployed when new alternatives become viable.
Progress efforts to remove barriers to local generation, storage and demand management activity, in particular ensuring distributors have reasonable access to the metering data they need to manage their networks safely and efficiently.
Who
MfE, Ministry of Business, Innovation and Employment (MBIE), Commerce Commission, Electricity Authority
When
2022-2031
Want to know more
6. Speed the build of low-emissions energy infrastructure to leverage our abundant resources
How
Streamline consenting of low-emissions energy infrastructure while meeting environmental objectives by:
Strengthening existing Resource Management Act 1991 national direction for renewable energy generation and transmission.
Developing a streamlined approach to planning and consenting under the Natural and Built Environments legislation, which could include tools such as environmental standards for project consenting and development of renewable energy zones.
Establishing an offshore regulatory framework to explore and develop low-emissions energy resources in territorial waters.
Who
MfE, MBIE
When
2027-2031
Want to know more
7. Ensure a fair, inclusive and equitable transition to a low-emissions economy
How
Target support to those disproportionately affected in the transition by:
Providing additional financial support to disadvantaged consumers to assist them with the upfront cost of investing in energy-efficiency improvements.
Supporting retraining for displaced workers.
Involving Māori and iwi in the development of specific energy hardship initiatives.
Who
Ministry of Social Development, MBIE
When
2022-2031
Want to know more
Section 6.2 - Supporting towns and regions to flourish
8. Improve efficiency and security of freight and the national supply chain
How
In developing a long-term National Freight and Supply Chain Strategy, the government should:
Include airports, ports, road, rail and coastal shipping.
Ensure it is integrated, resilient and multi-modal.
Identify infrastructure needs and options to improve efficiency, sustainability and security.
Assess the appropriateness of regulatory and market structures.
Recommend reforms and investments that will enable the more efficient movement of freight, provide freight users with competition and choice.
Build national freight and supply chain data capabilities for capturing and sharing data securely to improve efficiency.
Investigate the development of a National Location Registry, where attribute information about physical pickup and delivery locations is digitally stored and accessible to authorised users, leveraging the recent experience of Australia. The registry should be sensitive to confidential information and privacy concerns.
Who
Ministry of Transport (MoT)
When
2022-2026
Want to know more
9. Reduce barriers to and costs of providing infrastructure services
How
In developing a National Digital Strategy, the government should:
Prepare New Zealand for realising the full benefits of a connected digital society and establishing regions where 21st century talent wants to live.
Fix digital black-spot areas and ensure universal access to digital services and skills that remove the limitations of physical distance from major markets nationally and internationally.
Leverage changing social and economic patterns arising from COVID-19 and rising urban house prices to support the development of regional areas.
Identify and set out a plan to resolve key telecommunication system resiliency issues.
Identify options to improve trust in digital services and address digital privacy concerns.
Review standard infrastructure requirements for affordability across regions and infrastructure sectors. Broaden requirements to allow for on-site solutions and other low-cost design when similar service levels are possible.
Who
Department of Internal Affairs (DIA), MBIE
When
2022-2026
Want to know more
10. Reduce population uncertainties for infrastructure demand, planning and delivery
How
Establish a National Population Plan that:
Presents a likely population pathway over the next 50 years and identifies requisite supporting policies.
Provides direction for regional spatial plans.
Identifies supporting policies required for New Zealand to capitalise on the benefits of a larger population, while managing and minimising the costs of growth.
Regularly review and publish best-practice advice to improve population projection accuracy.
Require local governments and other public infrastructure providers to test significant infrastructure projects and investment plans against high, medium and low projections.
Who
Productivity Commission, Stats NZ, MBIE
When
2027-2031
Want to know more
11. Prepare for zero-emissions commercial electric flights and unmanned aircraft
How
Prepare existing airport infrastructure for zero-emissions commercial electric flights and leverage wider export opportunities. Measures will need to:
Develop the requisite training for existing and new pilots and for the maintenance of electric aircraft.
Prepare power and charging infrastructure networks and capabilities.
Develop a network of charging stations across New Zealand airports so that alternatives are available, in the case of service disruptions.
Coordinate charging standards to ensure that a wide variety of aircraft can utilise charging equipment.
Investigate export-ready applications, such as pilot and maintenance training.
Upgrade the aviation system and existing airport infrastructure to cater for greater use of unmanned aircraft.
Who
MoT, Civil Aviation Authority, Airports and Airlines
When
2022-2041
Want to know more
Section 6.3 - Building attractive and inclusive cities
12. Improve water infrastructure pricing and provision in cities
How
The water, wastewater and stormwater sector should be reformed, including by:
Implementing performance-based economic regulation and water quality regulation to ensure that water providers are incentivised to drive efficiency and deliver excellent customer service.
Ensuring that there's a clear link between the cost of providing water services and the prices that are charged to users, following the principles in Section 7.2.
Allowing entities to use their balance sheet capacity to finance infrastructure for growth, as well as funding asset renewals and improvements in water quality.
Clarifying the interface between water service entities and developer-financed water infrastructure provided under the Infrastructure Funding and Financing Act 2020.
Ensuring that developers can benefit appropriately from the provision of infrastructure that has spare capacity.
Developing cost-benefit analysis guidelines to standardise evaluation decisions on water infrastructure against social, environmental and economic benefits.
Who
DIA, Local Government (or New Water Entities), MBIE (or Economic Regulator)
When
2022-2031
Want to know more
13. Reduce pressure on water infrastructure through better water management and conservation
How
Steps that should be taken to reduce pressure on water infrastructure include:
Using planning rulebooks to encourage on-site solutions. For example, building coverage could be increased in exchange for installation of on-site stormwater-management devices.
Removing regulatory barriers to water conservation, such as consent requirements to install rainwater harvesting tanks.
Setting performance standards that improve the water performance of appliances.
Who
Local Government (or New Water Entities), MfE, MBIE, DIA, Taumata Arowai
When
2022-2031
Want to know more
14. Realign local government boundaries, where appropriate, to improve coordination of infrastructure and planning outcomes
How
Where appropriate, local government boundaries should be redrawn to better align borders with functional labour-market boundaries to enable the coordination of key infrastructure and planning decisions. The realignment of boundaries should be guided by:
The alignment of borders with wider urban labour markets, commuting and urban growth patterns.
The costs and benefits of integrating regional planning and infrastructure provision.
An integration of infrastructure planning, ownership and operation to enable the efficient provision of infrastructure.
The alignment of funding streams with the infrastructure funding and financing principles outlined in Section 7.2.
A consideration of mechanisms for local voices to continue to inform decision-making.
Who
DIA, Review into the Future for Local Government
When
2027-2031
Want to know more
15. Increase the supply and use of low-emissions transport modes
How
Transport network planning and funding entities should:
Improve the quality, speed and reliability of public transport to major employment centres.
Improve active transport infrastructure, starting with low-cost solutions such as improving pedestrian crossings and reallocating existing road space to provide safe cycling facilities.
Reduce barriers to the cost-effective implementation of low-emissions transport modes and streamline costly resource management and local government consultation processes.
Increase certainty of funding to enable low-emissions transport modes to scale up efficiently.
Ensure all options considered for investments are subject to appropriate cost-benefit analyses.
Who
MoT, Waka Kotahi NZ Transport Agency (Waka Kotahi), MfE, Local Government
When
2022-2041
Want to know more
16. Reduce costs by optimising infrastructure corridors
How
Enable the planning and protection of infrastructure corridors in advance of growth through the following steps:
Develop a lead infrastructure policy and supporting guidance that provides a clear definition of lead infrastructure. The policy should include evaluation techniques for decision-making.
Amend resource management legislation to extend the duration of designations to 30 years and allow designations to be granted based on concept plans. Statutory tests for designations should be based on an established evaluation methodology.
Establish a corridor reservation fund with a secure funding source that can be used for early corridor-protection activities, such as buying designated or identified sites in advance.
Who
MfE and Treasury, supported by Te Waihanga and Infrastructure Providers
When
2022-2031
Want to know more
18. Improve the efficiency and consistency of urban planning by standardising planning rulebooks
How
Standardise the planning policies of regional and district plans. This should:
Establish national uniform definitions for land use policy.
Develop a National Planning Framework that appropriately standardises rules, with local authorities required to adopt these rules with limited variations.
Make consistent provision for papakāinga housing on Māori land and other forms of community housing.
Merge regional and district plans into a smaller number of combined plans.
Who
MfE, Ministry of Housing and Urban Development (MHUD), Local Government
When
2022-2026
Want to know more
19. Improve the delivery of transit-oriented development (TOD)
How
Undertake post-implementation reviews of recent transit-oriented development (TOD) opportunities. These reviews should:
Reflect international best practice, be independent and assess actual performance against appraisal, cost schedule and benefits.
Recommend changes to practices and policies to increase the effectiveness of TOD delivery.
Who
MoT, Waka Kotahi, MHUD, Kāinga Ora
When
2022-2026
Want to know more
20. Improve the efficiency and outcomes of infrastructure through spatial planning
How
Resource management reforms should include requirements for regional spatial plans that:
Provide clear direction to district plans and funding plans.
Include mechanisms for participation by relevant central government infrastructure suppliers and Māori.
Provide for cities to double or triple in population and provide alternative scenarios for the spatial distribution of growth, rather than providing only for a single growth scenario.
Identify future infrastructure requirements, including future transport networks and other major infrastructure.
Who
MfE, MHUD
When
2022-2026
Want to know more
21. Reduce congestion and improve urban mobility
How
Implement congestion pricing and road tolling in urban centres by:
Implementing recommendations in the "The Congestion Question" report for congestion charging in Auckland. Stage implementation as appropriate, considering current and future public transport arrangements.
Immediately removing legislative barriers to implementing congestion charging and road tolling, such as requirements in the Land Transport Management Act 2003 for alternative untolled routes.
Progressing planning for congestion pricing schemes for Wellington and other cities as appropriate.
By 2025, identifying other urban areas where congestion pricing may be beneficial.
Assigning responsibility for setting and adjusting prices to an appropriate independent institution.
Who
MoT, Waka Kotahi, Local Government
When
2022-2031
Want to know more
22. Target transport investment to areas of highest need using signals from congestion pricing
23. Increase housing development opportunities in areas with good access to infrastructure
How
Improve development opportunities in areas already well served by infrastructure by:
Accelerating the implementation of the National Policy Statement on Urban Development and monitoring compliance, including requirements to upzone around rapid-transit and employment centres.
Enabling greater urban development, including requirements for minimum levels of mixed-use zoning and upzoning.
Prioritising provision of human necessities, such as housing, over preservation of subjective preferences (e.g. heritage, character and amenity).
Using national direction to set binding targets for increased housing and business capacity commensurate with future growth expectations, guided by land prices in high-demand areas.
Adopting independent hearings panels to review district plan changes.
Who
Local Government, MfE, MHUD
When
2022-2031
Want to know more
24. Improve spatial planning through better information on infrastructure capacity and costs to service growth
How
Improve information on the infrastructure cost implications of different growth possibilities by:
Developing, validating and publishing a spatial model of the long-run average infrastructure costs of servicing growth in different locations, to inform issues like regional spatial planning, local government development contributions policies and the alignment of development-capacity increases with infrastructure capacity and low-cost opportunities for development. This model should cover all relevant types of public infrastructure.
Requiring water entities to publish geo-spatial information on water asset condition, capacity for growth in existing water networks and capacity for growth due to planned network upgrades.
Developing a common approach to measuring the condition and capacity of water infrastructure assets.
Who
MHUD, Te Waihanga, Infrastructure Providers
When
2022-2031
Want to know more
Section 6.4 - Strengthening resilience to shocks and stresses
25. Increase the resilience of critical infrastructure
How
To increase the resilience of critical infrastructure the government should:
Develop a principles-based definition of critical infrastructure.
Apply the definition of critical infrastructure consistently across the policy and legislative framework for resilience.
Develop the criteria to set infrastructure criticality levels and then identify New Zealand's critical infrastructure.
Clarify and strengthen requirements to identify minimum service levels for critical infrastructure in the event of an emergency.
Adequately resource lead resilience agencies to carry out the functions required to support the delivery of critical infrastructure, on a consistent and long-term basis.
Who
National Emergency Management Agency (NEMA), Department of Prime Minister and Cabinet (DPMC), Treasury
When
2022-2026
Want to know more
26. Improve infrastructure risk management by making better information available
How
To make better information available to support risk management steps should be taken to:
Require regular disclosures of information about critical infrastructure preparedness and minimum service levels in an emergency.
Resource the maintenance, upkeep and availability of research, information, data-sets and tools to support decision-making that enables resilience outcomes.
Who
NEMA, DPMC, LINZ, Central Government
When
2022-2026
Want to know more
27. Prepare infrastructure for the impacts of climate change
How
To adapt to climate change, actions should be taken to:
Finalise and adopt the infrastructure actions set out in the National Adaptation Plan.
Support the provision of accessible, consistent and robust information on regional and local climate change impacts across the whole country.
Who
MfE, Te Waihanga, Climate Change Commission
When
2022-2031
Want to know more
28. Support the security of supply of essential materials, goods and services to build, operate and maintain infrastructure
How
To increase the resilience of supply of essential materials, steps should be taken to:
Incorporate into all risk-management planning for critical infrastructure a consideration of the security of supply of materials and goods required for the construction, operation and maintenance of infrastructure (including aggregate, bitumen, cement, concrete, steel and processed timber) and other essential goods and services.
Require that regional councils, in conjunction with territorial authorities, undertake resource scans as part of their long-term planning processes and protect sites suitable for aggregate extraction, including through zoning.
Who
MBIE, Ministry for Primary Industries, Central Government, Local Government
When
2022-2050
Want to know more
Section 6.5 - Moving to a circular economy
29. Establish a clear national direction for circularity in waste management
How
In developing a National Waste Strategy, provide appropriate direction that:
Sets out a plan for circularity and is consistent with net-zero emissions targets.
Accelerates investment and innovation in waste minimisation and the recovery of resources.
Considers an appropriate aspirational target.
Sets out performance measures for tracking performance.
Ensures waste markets are well functioning and appropriately incentivised and regulated.
Who
MfE
When
2022-2031
Want to know more
30. Prioritise options that minimise waste entering the market to avoid unnecessary infrastructure costs
How
Options should include:
A ban on products that are hard to recycle.
The development of options to incentivise greater product stewardship.
Increasing waste-disposal levies sustainably while managing, monitoring and funding enforcement to minimise illegal dumping.
The prioritisation of these options should be guided by cost-benefit analyses.
Who
MfE, Local Government
When
2022-2031
Want to know more
31. Improve recycling infrastructure for priority materials
How
Options should include:
Developing processing and biomass utilisation capacity for timber and wood wastes.
Developing construction and demolition waste collection services.
Developing a network of regional hubs for e-waste and battery drop-offs and the aggregation of hubs with adequate storage capacity for plastics consolidation.
Developing opportunities for local tyre-manufacturing and retreading capacity.
Improving sorting facilities.
Who
MfE, Local Government
When
2022-2031
Want to know more
32. Use behavioural interventions to address barriers to recycling, reduce waste and avoid contamination
How
This should include:
Improving the ease of recycling for consumers, with a focus on simplicity and consistency across jurisdictions.
Funding sustained education campaigns that promote and improve the social licence for recycling and promote options to minimise and avoid waste.
Coordinating and sharing behavioural change materials between central and local government.
Who
MfE, Local Government
When
2022-2031
Want to know more
33. Reduce landfill emissions resulting from organic waste
How
Steps should be taken to:
Improve the collection of organic waste through more commercial and household food waste collection services.
Target education and behaviour-change programmes to improve the take-up of organic waste collection.
Require landfill gas capture for all landfills that accept organic waste.
Who
MfE, Local Government
When
2022-2031
Want to know more
34. Develop uses for recycled materials in infrastructure
How
Responsible agencies should:
Identify opportunities for more domestic reprocessing, including for plastics (especially e-waste), metals, fibreglass, plasterboard and aggregate.
Develop relevant technical specifications and national standards for the re-use of recycled construction materials in infrastructure.
Support innovation in, and the procurement of, infrastructure design and construction to enable a greater use of recyclable materials in infrastructure.
Who
MfE, MBIE, Local Government
When
2022-2031
Want to know more
36. Improve waste sector data and insight
How
Fund improvements in waste data to enable comparisons between volume, performance and processing capacity across waste streams by region and territorial authority. This might be achieved by resourcing the implementation of the National Waste Data Framework.
Who
MfE, Local Government
When
2022-2031
Want to know more
37. Encourage public infrastructure waste minimisation and designing for deconstruction
How
This should include the following steps:
Require all infrastructure projects to incorporate waste-minimisation plans in procurement and design objectives and use recycled products where feasible.
Encourage prefabrication and standardised options as part of infrastructure delivery.
Investigate the efficacy of a resource exchange mechanism for infrastructure projects, through a partnership between government and the construction sector.
Who
MfE, Local Government
When
2022-2031
Want to know more
Section 7.1 - Better decision making
38. Strengthen government as a sophisticated client of infrastructure
How
Take the following steps to develop the client capabilities of the government to better deliver infrastructure:
Develop service quality standards and standard design methodologies for each major infrastructure asset class with key delivery agencies.
Require long-term planning informed by service standards to better predict future infrastructure needs.
Strengthen government capabilities in end-to-end delivery, including governance, commissioning, procurement, negotiation, oversight and whole-of-life management systems for major infrastructure.
Who
Treasury, Central Government Delivery Agencies
When
2022-2031
Want to know more
39. Increase the clarity of long-term investment intentions for public infrastructure agencies
How
Central government requirements for long-term investment planning and asset management planning for all public infrastructure providers should be aligned with standards for local government and regulated infrastructure.
Long-term investment planning should be transparent, aligned with agency service-delivery priorities and strategies, and linked with budget allocations and other sources of financing.
Who
Treasury, DIA, Local Government
When
2027-2031
Want to know more
40. Strengthen independent advice for infrastructure prioritisation
How
Establish an independent infrastructure priority list to build consensus on key projects and initiatives that address significant long-term problems. The development of the priority list should include the following steps:
Publish guidance on criteria for project inclusion and priority investigations, consistent with best practice decision-making principles.
Solicit applications for priority projects and initiatives from infrastructure providers.
Assess projects and initiatives and update the priority list regularly.
Who
Te Waihanga
When
2022-2026
Want to know more
41. Improve infrastructure performance reporting and insight
How
Assemble and analyse infrastructure performance across:
Projects: how individual assets perform in delivery and operation.
Networks: how infrastructure performs as a network.
Systems: how networks perform as an integrated system.
Who
Treasury, Te Waihanga
When
2022-2050
Want to know more
42. Optimise infrastructure investment by considering non-built solutions first
How
Consider and prioritise non-built options when choosing how to address infrastructure challenges, including:
Using pricing to manage demand.
Making better use of existing infrastructure by adapting or reusing it.
Using regulation and education to manage infrastructure demands.
Considering lower-cost options before progressing to higher-cost options.
Who
Treasury, Central Government Delivery Agencies, Local Government
When
2022-2031
Want to know more
43. Strengthen project evaluation through cost-benefit analysis
How
Deliver consistent and transparent project evaluation by requiring:
Local and central government agencies to undertake and publicly release rigorous social cost-benefit analyses of all public infrastructure investment proposals where the whole-of-life costs of the proposals exceed $150 million.
Commitments to projects to only be made after the completion of this analysis, rather than prior to undertaking the analysis.
Analysis to recognise inter-generational choices appropriately and include wider environmental and social impacts.
Who
Treasury, MBIE, Te Waihanga
When
2022-2026
Want to know more
44. Ensure an appropriate consideration of future generations in project evaluation
How
Undertake an inquiry into the appropriateness and consistent application of New Zealand's social discount rate policy, which determines how much weight is placed on future outcomes relative to present-day outcomes when analysing public infrastructure investments.
Who
Treasury, Te Waihanga
When
2027-2031
Want to know more
45. Improve the infrastructure project knowledge base
How
To improve future project evaluation methods and processes, delivery agencies should:
Conduct and fund independent post-implementation reviews of major infrastructure projects at completion.
Publish ex-post reviews in full and measure performance, benefits and costs against business case estimates.
Who
Central Government Delivery Agencies
When
2022-2050
Want to know more
46. Improve infrastructure cost analysis
How
Undertake investigations into the cost performance of New Zealand's infrastructure sector that:
Cover multiple infrastructure sectors to enable the identification of common issues and points of difference.
Identify recent cost trends and drivers of cost trends within infrastructure sectors.
Benchmark New Zealand's cost performance against better-performing OECD countries and identify drivers of differences.
Are repeated at least every five years to inform ongoing Infrastructure Strategy development.
Who
Te Waihanga
When
2022-2050
Want to know more
Section 7.2 – Improving funding and financing
47. Improve equitable funding of local infrastructure
How
Investigate options and timing to phase in the removal of existing Crown exemptions from paying rates, recognising when a demand for infrastructure is generated.
The approach should avoid creating excessive and unexpected financial liabilities.
Who
DIA
When
2027-2031
Want to know more
48. Reform the transport funding system
How
Implement a new, fit-for-purpose transport funding system that's sustainable and adequate for meeting future transport investment requirements.
The system should incorporate principles for user charges and best-practice funding and include shifting vehicles to time, location, distance and level-of-service-based pricing. Establishing a new system should include:
Establishing necessary transport funding requirements.
Introducing necessary complements or replacements to Road User Charges and Petrol Excise Duty.
Determining how additional funding, if required, should be collected.
Who
MoT
When
2022-2031
Want to know more
49. Improve and streamline the application of development contributions
How
Implement a single national legislative process for development contributions policy to assist territorial authorities in interpreting existing legislation for determining development contributions policy. This could be similar to National Building Standards.
Who
DIA
When
2027-2031
Want to know more
50. Consolidate existing separate infrastructure capital funds
How
Fragmented infrastructure capital funding pools should be consolidated and integrated in a transparent infrastructure capital fund, or funds.
The consolidation of national capital funding programmes for infrastructure would enable the Government to prioritise investments based on national significance and net benefits and enable greater public transparency of infrastructure capital funding decisions.
How funding is held and distributed should:
Be set out transparently.
Include a consideration of the use of grants, loans and investments, or some combination of these.
Who
Treasury
When
2022-2031
Want to know more
51. Improve the ability to debt fund infrastructure
How
As a way of accessing alternate financing and avoiding debt on local government balance sheets:
Investigate opportunities to utilise the Infrastructure Funding and Financing Act 2020.
Explore other Special Purpose Vehicles as a mechanism for new infrastructure investments.
Who
Treasury, DIA
When
2027-2041
Want to know more
52. Improve funding of infrastructure services through targeted funding tools
How
Establish targeted funding tools for the following applications:
Tourism: Ensure that the International Visitor Conservation and Tourism Levy can be used for tourism infrastructure, especially by local authorities with high international visitor numbers that are otherwise struggling to secure funding sources.
Wastewater: Introduce legislative change that clarifies the ability of local authorities to direct-rate wastewater based on volumes, to create a better link between services and costs to users.
Waste: Investigate what funding mechanisms will best achieve the objectives of the Waste Minimisation Act 2008 and the National Waste Strategy and incentivise behaviour appropriately.
Who
MBIE, MoT, DIA, MfE
When
2027-2031
Want to know more
53. Encourage the use of value capture tools to fund infrastructure for growth
54. Increase infrastructure funding to meet our infrastructure challenges and boost productivity
How
Given that current expenditure levels are unlikely to be sufficient to provide for infrastructure needs in coming decades, a material increase in infrastructure funding from both public and private sources is required to meet our infrastructure challenges and boost productivity.
The government should increase infrastructure funding where there are opportunities to use investment to support productivity growth, resilience and improvements in environmental outcomes. Investments should be made based on rigorous assessments of which projects deliver positive value for money.
Who
Treasury
When
2027-2050
Want to know more
55. Ensure that infrastructure charges keep pace with inflation
How
Infrastructure related charges, fees and levies that are set out in legislation or regulation should be adjusted for inflation.
Who
Treasury, Local Government
When
2022-2026
Want to know more
56. Improve public understanding of how infrastructure is funded
How
Improve communication about how infrastructure is priced and funded to build public understanding, including:
How infrastructure is priced in different infrastructure sectors, and what implications this has for equity and the quality of infrastructure provision.
The link between how infrastructure is paid for and the quality of services that are provided.
Who
Te Waihanga, Infrastructure Providers
When
2022-2026
Want to know more
Section 7.3 – An enabling planning and consenting framework
58. Improve the evidence base for environmental consent applications
How
Robust and consistent data is essential for making informed decisions on environmental consent applications. Steps to increase the quality of data available include:
Improving the evidence base on and knowledge of the effects of urban development and infrastructure on the quality of water, air, soil and biodiversity (species and habitat).
Centralisation of knowledge to enable consistent application across regional jurisdictions, for the purpose of assessing environmental consent applications.
Who
MfE
When
2022-2031
Want to know more
59. Deliver reasonable environmental limits and targets in the Natural and Built Environments legislation
How
Steps to achieve this recommendation include:
Focusing on environmental limits and targets for matters sustaining life (for example air, water, soil and biodiversity) rather than human values and preferences (for example heritage, character and amenity).
Standardising national minimum environmental limits.
Where possible, ensure that environmental limits are measurable, targeted and quantifiable.
Who
MfE
When
2022-2026
Want to know more
60. Develop greater certainty for infrastructure providers in the Natural and Built Environments legislation
How
Steps that should be implemented to deliver greater certainty include:
Standardising and codifying a National Planning Framework for infrastructure in the emerging Natural and Built Environments legislation, which sets requirements and conditions that infrastructure providers are required to meet for routine matters like noise and dust management, to minimise variations and increase certainty.
Providing a mechanism for resolving conflicts between multiple outcomes to avoid litigation on the interpretation of the outcomes.
Narrowing the definition of 'effects' to those relating to the natural and physical environment, so that other matters (like effects on trade competition) aren't unreasonably used to restrict new infrastructure.
Requiring that externalities unrelated to natural and physical resources are addressed elsewhere, such as in a project business case.
Who
MfE, Te Waihanga
When
2022-2031
Want to know more
Section 7.4 - Accelerating technology use
61. Increase the diffusion of existing technologies to increase productivity in the infrastructure sector
How
Increase diffusion of existing technologies through the following steps:
Review approaches to procurement at an agency level and consider whether there are barriers to technology diffusion within current systems and practices.
Develop a technology plan that establishes a clear time-bound mission and actions to increase the diffusion of technology. This should include consideration of all demand-side drivers and barriers to uptake.
Devolve decision-making for technical standard-setting (such as minimum energy performance standards, housing codes, waste and water efficiency) to responsible regulators where there are productivity gains and ensure the standards are reviewed and updated regularly.
Who
DIA, MBIE
When
2022-2026
Want to know more
62. Accelerate the adoption of open data and common standards for the infrastructure sector
How
Accelerate the adoption of open data and common standards through the following steps:
Identify the legislative and administrative steps required to move toward full open data for central and local government (including infrastructure).
Fund, develop and mandate common national infrastructure metadata standards, building on existing government initiatives.
Who
DIA, Stats NZ
When
2022-2031
Want to know more
63. Accelerate the digitalisation of infrastructure
How
Accelerate digitalisation across the infrastructure lifecycle by implementing the following steps:
Facilitate the consistent use of Building Information Management systems and provide detailed implementation guidance.
Accelerate investigations into city, region and nation-wide digital twins to embed them as a process and tool of choice for spatial planning development.
Fund and launch a series of artificial-intelligence-powered use cases across infrastructure sectors.
Who
MBIE, MfE
When
2027-2031
Want to know more
Section 7.5 - Building workforce capacity and capability
64. Provide certainty to industry to invest in skills and training development
How
Strengthen the Te Waihanga Infrastructure Pipeline to provide industry and government with a long-term view on:
The scale and type of work to be completed.
The likely resources required to plan, deliver and maintain infrastructure.
The geographic and sectoral distribution of projects.
Use the aggregated data to provide insight into the capacity of the economy to deliver the pipeline, inform forecasts of labour requirements and inform the direction of government infrastructure spending during times of economic downturn.
Who
Te Waihanga
When
2022-2031
Want to know more
65. Develop the talent required to deliver New Zealand's future infrastructure
How
Deliver a national infrastructure skills plan to ensure New Zealand has the right people with the right skills to deliver our infrastructure over the medium to long term.
A dedicated public and private sector working group should be established to develop the national infrastructure skills plan so that it:
Provides information on the likely professional and workforce requirements to deliver the planned and forecast infrastructure supply over the next 15 years and beyond.
Advises on how our education system can best support our future workforce needs.
Provides advice on the role of immigration settings to address critical specialist infrastructure skill deficiencies that could delay construction or add to the costs of projects and maintenance.
Provides advice on skill-development pathways that appeal to a diverse audience and increase diversity in all parts of the infrastructure system.
Advises on opportunities to improve coordination across projects and sectors, and how employers can work more effectively in partnership with training providers.
Who
NZ Government Procurement, Public Service Commission, Te Waihanga, MBIE, Tertiary Education Commission, Treasury, Construction Sector Accord, Ministry of Education
When
2022-2031
Want to know more
66. Build New Zealand's competitiveness for international firms and products
How
Identify and reduce barriers for international firms and products to enter the New Zealand market by adopting international standards by default unless there is a compelling rationale for the development of a specific New Zealand standard.
Strengthen the trans-Tasman procurement market by ensuring a consistent approach in:
Product and building standards.
Qualification requirements.
Contract and procurement processes.
Who
NZ Government Procurement, MBIE
When
2027-2031
Want to know more
67. Strengthen government client-side capability to plan, design and deliver projects
How
Improve project outcomes by increasing public sector capabilities and excellence in infrastructure delivery by:
Introducing comprehensive procurement, asset management and project management practitioner development frameworks and underpinning accreditation systems across government.
Creating career development opportunities in the public sector by increasing the number of entry-level technical roles in client agencies to support the placement and rapid professional growth of newly graduated practitioners.
Building effective partnerships between delivery agencies and New Zealand's academic institutes to disseminate international best practice and lift the prioritisation of research in infrastructure.
Aligning remuneration between the public and private sectors to improve competition across infrastructure types.
Who
Public Service Commission, Central Government Delivery Agencies
When
2027-2031
Want to know more
68. Recognise major project leadership as a role with comparable complexity to organisational leadership
How
The following steps should be put in place to recognise the complexity of major project leadership:
Develop guidance on the skill sets and appointment processes appropriate for the leaders of New Zealand's largest projects.
Establish a New Zealand Major Projects Leadership Academy based on proven international approaches and make completion a requirement for project leaders.
Ensure accountability mechanisms and remuneration are aligned with the complexity and risk project leaders are managing on behalf of the government.
Who
Public Service Commission, Te Waihanga
When
2022-2031
Want to know more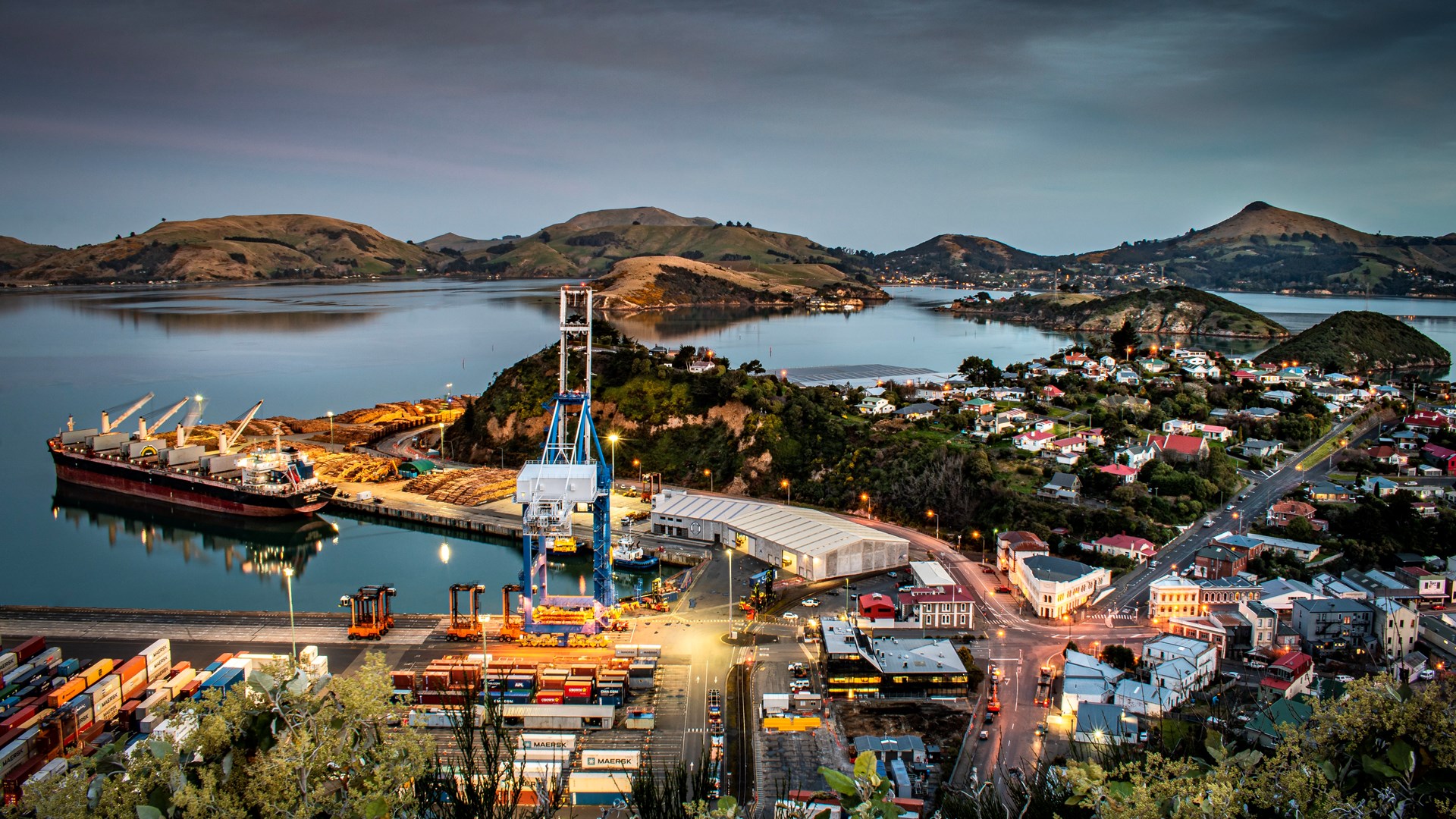 Port Chalmers, Dunedin. Source: Jamie Fraser, iStock by Getty Images.