Rautaki Hanganga o Aotearoa
New Zealand Infrastructure Strategy
Infrastructure for a thriving New Zealand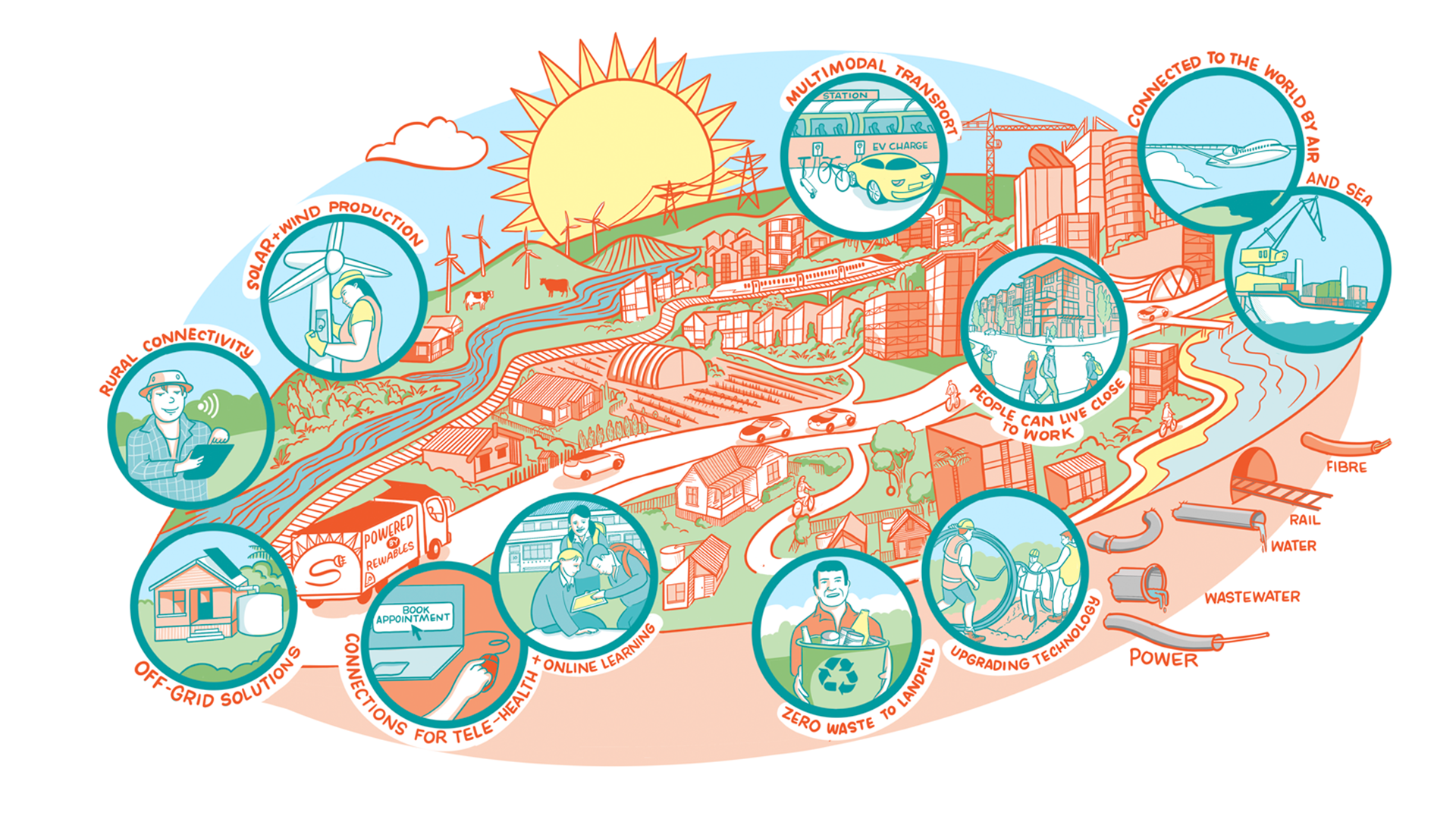 Overview
A high level view of the strategy, with a focus on the areas that will have the greatest impact in transforming New Zealand over the next 30 years.
---
Introduction
The importance of infrastructure to our lives and why we need a strategy for the future.
---
Vision for infrastructure
The vision for New Zealand's infrastructure and the aims and principles that support this vision.
---
Case for change
The significant challenge our infrastructure system faces and the tools we have for meeting these challenges.
---
Blueprint for action
The strategy in a snapshot. This shows how all of the elements of the strategy fit together.
---
Strengthening partnerships with and opportunities for Māori
A strategic approach to and recommendations for creating stronger partnerships, unlocking opportunities and incorporating mātauranga Māori into infrastructure design, planning and delivery.
---
A thriving New Zealand: what we need to do
Five strategic objectives based on the infrastructure challenges and opportunities we have identified. Each objective contains a number of recommendations for change, with information on which institutions or organisations need to progress them and timeframes for action.
---
A world-class infrastructure system: how we get there
Five cross-cutting themes that will build a better infrastructure system to support and enable the achievement of the strategic objectives. Each theme contains a number of recommendations for change, tagged to specific agencies and organisations and with timeframes for action.
---
The remaining sections share next steps, the complete list of recommendations, a list of further information and resources, as well as detailed end notes.
New Zealand's infrastructure faces a historic period of deep and intergenerational change. Historic, because many of the challenges we face are new and uncertain; deep, because it impacts all parts of our society; and intergenerational, because the effort must be sustained, not over months and years, but over decades.
It's hard to think of an activity that doesn't use infrastructure. We commute to work on transport networks that have been constructed and maintained by generations of New Zealanders. These same networks carry the goods that stock our supermarket shelves with food. These supermarkets are powered by electricity produced by power stations built decades ago. This electricity also charges phones that connect to a network of cell towers, which bring us closer to the world and to each other.
Te Waihanga exists to look across these connected networks of infrastructure in a holistic and coordinated way. This strategy takes this more holistic view of the infrastructure system. It also takes a long-term view, recognising that the needs and aspirations we have for our society and therefore, our infrastructure, are constantly changing.
Our infrastructure must adapt to our changing needs and aspirations.
The New Zealand of 2050 will be a very different place to live from the New Zealand of today. Within the next three decades our cities could be home to 1.7 million new people, roughly the size of another Auckland. Our regions will face considerable change too, with some parts of New Zealand growing, while others will need to adjust to declining populations. No matter where we live, technology will continue to bring us closer together, altering our expectations of how we connect to each other and the way we work.
Infrastructure can help us to protect the environment.
New Zealand has committed to a net-zero carbon emissions economy by 2050. This requires a major energy transition and levels of investment in new infrastructure not seen since the 1970s. Our aspirations for healthy and readily available drinking water and clean waterways requires adequate investment in wastewater treatment plants and other infrastructure. Investment in recycling and resource recovery infrastructure can enable a shift to a society where waste is reduced or not even produced at all. Our growing cities can also be good for our environment. Bigger, denser cities where people live in smaller homes mean less electricity for heating, shorter car trips and more use of public transport, emitting less carbon into the atmosphere.
Infrastructure opens up many new opportunities, but there are also many challenges.
When built in the right place, transport infrastructure can help to improve productivity, raise wages, support new businesses and reduce disadvantage by connecting people with work and education. Digital technology is creating new business opportunities in regions. Making our infrastructure more resilient and investing in resilience planning will enable us to recover faster from natural disasters (such as earthquakes and floods) as well as other shocks (like cyber-attacks), minimising their impacts on our society and economy.
But we're also facing many infrastructure challenges (see Figure 1) such as dealing with unaffordable homes, congested motorways and hospitals that desperately need upgrading. New Zealand is also experiencing historic workforce shortages that limit our capacity and capabilities across all stages of infrastructure planning and delivery and this is predicted to worsen. Unless we act, these challenges will grow, especially as our population increases. We also face the challenges of our warming climate, which will not only mean major changes in the way we do things, but also more unpredictable and extreme weather.
We must act now and with urgency. In dealing with COVID-19, New Zealand has shown a responsiveness and agility that's among the best in the world. Overcoming the challenge for our infrastructure requires a similar, but more sustained commitment.
Figure 1: New Zealand's infrastructure challenge
Source: Te Waihanga, data from Sense Partners (2021), Climate Change Commission (2021), Alpine Fault Magnitude 8 (2021), Statistics New Zealand (2021), WIP (2021), Simonson (2019)
We must be smarter about how we plan, build and use our infrastructure.
We're building new infrastructure and more is planned for the future. We currently spend around 5.5% of gross domestic product (GDP) on building public infrastructure. This means that for every $20 New Zealand earns, we spend around $1 on infrastructure. This includes our roads, water networks, hospitals, schools and defence facilities (but doesn't include privately provided infrastructure like electricity generation and telecommunications). If we were simply to keep doing what we've always done and try to build our way out of current and future infrastructure challenges, we would need to spend almost double what we're spending now.
Responding to the challenges doesn't always mean building something new. Building infrastructure will still be an important part of the solution, but we also need to get better use out of our existing infrastructure. When we do build something new, there are changes we can make to get more value from what we spend. We must make better decisions about the projects we select and streamline delivery so that infrastructure is built more quickly and productively.
This strategy is focused on five objectives to achieve a thriving New Zealand.
Based on the case for change, we've developed five strategic objectives. These are the things we need to do as a nation to achieve the vision of a thriving New Zealand.
Enabling a net-zero carbon emissions Aotearoa through rapid development of clean energy and reducing the carbon emissions from infrastructure.
Supporting towns and regions to flourish through better physical and digital connectivity and freight and supply chains.
Building attractive and inclusive cities that respond to population growth, unaffordable housing and traffic congestion through better long-term planning, pricing and good public transport.
Strengthening resilience to shocks and stresses by taking a coordinated and planned approach to risks based on good-quality information.
Moving to a circular economy by setting a national direction for waste, managing pressure on landfills and waste-recovery infrastructure and developing a framework for the operation of waste-to-energy infrastructure.
As part of these objectives we need to strengthen partnerships with and unlock opportunities for Māori.
These objectives will help us to shape a better future, but there are three areas that can have the greatest impact over the next 30 years in transforming New Zealand. These are:
Leveraging our low-emissions energy resources.
Planning for generations to come.
Better infrastructure through pricing.
Leveraging our low-emissions energy resources.
We can grow our low-emissions energy generation beyond what we need to meet our climate change commitments, creating economic export opportunities and high-paying jobs.
New Zealand has an abundance of low-emission energy potential. We have two to three times more commercially viable wind, solar, hydro and geothermal resources than the Climate Change Commission estimates will be needed to meet our net-zero carbon emissions commitment. Beyond meeting these commitments, unlocking a low-emissions economy could also provide much greater economic benefits for New Zealand.
To leverage our low-emissions energy resources we must have:
The right regulatory settings to enable the development of large-scale clean onshore and offshore energy resources and the networks needed to connect them. For example, the planning system needs to enable the timely development of clean energy generation.
Reliable supporting infrastructure: This requires an efficient expansion of supporting electricity and telecommunications networks and an efficient use of our gas and fuel networks.
A skilled workforce: We need more scientists and researchers helping to improve energy conversion technology, particularly for our dairy-processing activities. We also need to retain our skilled oil and gas workers to make the most of gas (and its specialist infrastructure) as we begin to transition to cleaner alternatives, including offshore alternatives.
The potential
By harnessing our low-emissions energy resources alongside other complementary technologies like hydrogen, we could treble our annual electricity supply. If we harness these resources, we can attract energy-intensive industries to grow our economy, create higher paying jobs and improve our quality of life. This is good for us and it's good for the planet.
Planning for generations to come.
We need to overhaul the way we plan infrastructure to keep pace with our changing population and ensure there's enough quality, affordable housing in the right places, supported by well-functioning infrastructure. With long-term planning, we can build a legacy of great communities for generations to come.
We can transform the system so that we are able to meet demand for infrastructure when it is needed. This means taking a long-term approach, allowing for different levels of growth so we don't limit our future, and coordinating our infrastructure planning with the planning we do for our homes and communities so that the two work together.
We need to take a coordinated approach across government and in our communities:
A resource management system that gives effect to national priorities: Reform is already underway and the replacement to the Resource Management Act (RMA) must perform the dual roles of protecting the environment and allowing for development. It must enable infrastructure providers to meet policy commitments, which could include decarbonisation, efficient transport networks, adequate competition in the supply chain, universal digital access and timely provision of social infrastructure.
A long-term, flexible approach to regional planning: We need an approach to regional planning that allows for infrastructure to be built in the future and ensures that cities and regions have plenty of options for responding to demographic change and economic growth. It should also reduce uncertainty where possible, such as through a national population plan.
Protecting areas for infrastructure decades in advance: Instead of our current 'just-in-time' approach, we can identify and protect strategic infrastructure corridors to provide a pathway for the infrastructure that might be needed in the future, allowing us to deliver more at a lower cost.
Planning rules that are equitable and enable more housing and employment in the right places: We can make it easier to develop land within our towns and cities and for people to live and work where they want, at a lower cost. Planning rules can empower everyone through improved housing affordability, reduced congestion and support for other social objectives.
Ensuring that the costs are fairly spread over time: We need funding and financing tools that reflect the period of time in which infrastructure assets deliver services.
The potential
An overhauled planning system would make it faster and cheaper to build new homes. Our communities will grow from the centre, with more people living closer to where they work so they can spend more time with their families and less time trying to get to work. When communities do spread outwards, it will happen at the same time as roads or public transport connections are built. More transport connections, as well as water networks, schools and other essential infrastructure will be part of new communities from the beginning. This will future proof quality of life for generations to come.
Providing better infrastructure through pricing.
Changing the way we pay for our busiest roads, water services and other infrastructure can improve asset utilisation, reduce the time we spend in traffic, accelerate decarbonisation efforts, conserve water and allow us to lift the quality of infrastructure and give us greater choice in how we want to live.
Our transport and water infrastructure is stretched to capacity in many places. Too many of us are spending hours stuck in traffic and facing rates rises to pay for water networks that are struggling to keep up with the needs of our growing cities. While we're planning to build more, it won't be enough.
Changing the way we pay for things like roads and water use provides more choice and better shares the load, provided it's done in a fair and equitable way. By introducing prices for our busiest roads at peak times and charging just for the water we use, we can encourage people to prioritise their trips, move to lower-carbon travel and conserve water use.
The actions we need to take include:
Pricing for quicker journeys: Charges and road tolling for the busiest roads at peak times will free up these roads, creating quicker trips for people who must drive, such as couriers, tradespeople and freight carriers.
Better transport alternatives: Alongside better transport pricing, we need to improve transport alternatives such as public transport, walking and cycling to make it easier for people to change their behaviour to avoid prices and move to low-emissions transport options.
Pricing to pay for water infrastructure: Charging to match the water we use will reduce costs for low users, encourage more careful use and reduce the need for costly new infrastructure.
Encouraging water conservation: Alongside changes to water pricing, we need to make it easier for people to conserve water. For instance, we can make it simple and straightforward to install rainwater harvesting and promote toilet flushing with grey non-drinking water.
The potential
A pricing system that better reflects need and provides for options, spreads the load on our infrastructure more evenly. Using our busiest roads at peak times will come with a cost, but our car journeys will be quicker as a result. At the same time, there are better options, like rapid transit, walking and cycling, so we can save money and time by leaving our cars at home.
We don't have hefty increases in rates as our water networks don't face the same strain and we only pay for the water we need. If we take steps to save water, like using a rainwater tank to water the garden, we know it's going to save us money in the long-term.
We need a world-class infrastructure system to meet our aspirations for the future.
To deliver on our aspirations, we need a different approach to managing our infrastructure systems, processes and resources, including in the decisions we make and the people, capital and technologies we use. We must work towards best practice, better manage the resources we have and invest in outcomes that are fair for all New Zealanders. To achieve this, system-wide change is needed. Many of the changes will be small and incremental, but collectively they will contribute to the development of a world-class infrastructure system.
Making the best possible decisions provides the foundation. We need decision-making frameworks that ensure a relentless focus on selecting the infrastructure that will create the most value for New Zealand, and doing more with the infrastructure we already have. Good decision-making takes place within and must be supported by a fit-for-purpose funding and financing system that makes appropriate use of infrastructure pricing to manage demand.
The infrastructure system requires the right people, at the right time, with the right skills to achieve our aspirations and address the challenges ahead. Currently, we face a historic workforce shortage in all aspects of infrastructure planning, construction and delivery, which is predicted to worsen. The development of a credible infrastructure pipeline and list of priority projects will provide industry with more certainty to invest in worker training and retention. Improving workforce diversity and safety across the infrastructure sector must also be a priority.
Implementing good decisions requires a strategic and coordinated planning and consenting system that can respond quickly to our infrastructure needs. It also requires a bold approach to the adoption and use of technological and digital change across the infrastructure sector. This requires a greater focus on open data and the adoption of digital technologies to improve productivity and enhance infrastructure planning, delivery and operation.
By streamlining our infrastructure systems and processes, we can make better decisions and implement them with the urgency needed to overcome our current challenges, as well as those we'll face over the next 30 years.
Blueprint for action.
This strategy follows a blueprint for action. It begins by identifying our infrastructure challenges and opportunities, which provide the context for action. Beneath this sits our vision and principles, and across everything we do is the need to ensure te ao Māori has a part in all aspects of our infrastructure system. Through this framework, the strategy sets objectives for a thriving New Zealand, recommendations for how we achieve these and the results we can expect.